In probably the most expensive divorce case ever in Vietnam, a man is appealing against a verdict that awarded custody to his millionaire ex-wife but failed to decree on a property settlement involving a whopping US$500 million, which could be unlawful.
36-year-old Bui Duc Minh told the press that despite sufficient evidence showing he owns part of the US$500 million fortunes, the Hoan Kiem district Court in Hanoi refused to rule on how the property should be distributed between him and his ex-wife and heiress Nguyen Thanh Thuy.
Thuy is the daughter of multi-millionaire Nguyen Truong Son, chairman of Bao Son Group which manages vast estates, hotels and resorts across the country. She herself is Bao Son's deputy CEO.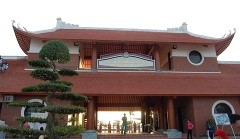 Gateway to paradise: the Bao Son paradise project owned by the wife
The sheer amount involved makes this among the highest-profiled divorces so far in Vietnam.
At the April hearing, the court agreed to let the two divorce after 7 years and granted custody of their two children to Thuy, who is one year younger than her ex-husband Minh. She filed for divorce last year citing differences in personalities.
But the court failed to solve one crucial issue: how much should Minh receive from the $500 million fortune, mostly owned by his wife in the forms of a 34ha high-end property project An Khanh – Hoai Duc in suburban Hanoi and stocks in seven companies under the Bao Son Group.
Giant wealth left unsolved
Minh told the press that before the marriage in 2004, Thuy owned only 5% of stocks at Bao Son but in 2007 the stake increased to 15%. So under law, the 10% difference should be counted as shared property co-owned by husband and wife and thus Minh is entitled to half.
Despite Minh's requests for such a fair share, the April court told him to settle the matter in a different non-divorce case.
Hence, he accuses the court of infringing on his own interests and breaking the civil procedure code in not dividing the property right away.
Agreeing with Minh is lawyer Tran Dinh Trien, head of the Vi Dan Lawyer's Office, who maintains that if Minh has enough evidence testifying to his share, the court's failure to touch upon the property issue is unlawful.