Police and forest rangers caught four people cooking up tiger bone glue at a house in Ha Noi's Thanh Xuan District on Tuesday.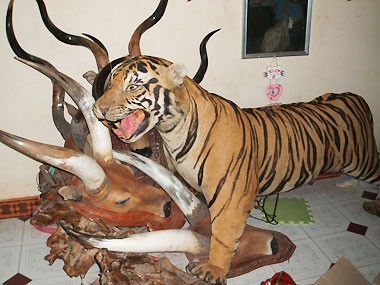 Some of the haul  from yesterday's raid in Ha Noi
Besides the four perps, the raid netted two frozen disemboweled tigers, a tiger skin, some bones and other tiger parts at the house rented by 40-year-old Nguyen Thi Thanh of Lao Cai Province, described by police as the ringleader.
They also discovered four elephant tusks weighing 15 kilograms each, five bear paws, deer antlers, the remains of chamois and wild buffalo, and several trays of cooked tiger bone glue.
The Forest Protection Department says each tiger weighed around 250 kilos and would fetch VND300 million on the black market, while the elephant tusks were worth a cool VND12 million a kilo.
Police claim that Thanh has confessed to smuggling in the wild animals from Laos and Myanmar.
The capital's top police officer, Lieutenant Colonel Le Hong Son, says the case is serious as these wild animals are listed under Group B1 of Viet Nam's red list of endangered species.
According to Pham Van Tri from the Forest Protection Department, it's the biggest case of tiger smuggling yet discovered in Ha Noi.