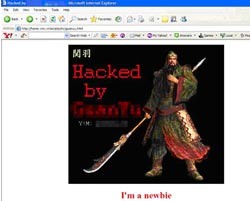 The image Tri left on home.vnn.vn after hacking the website in June 2006
Bui Minh Tri, who hacked into the Ministry of Education and Training's (MoET)website, was punished for his offence with the lowest possible fine (VND 10 million) by the Vinh Long Province's Post and Telecommunication Department (PTD).
However, the Internet Security Center of Ha Noi Polytechnic University (HPU) said that Tri should be strictly punished because he is a black hat hacker, not a white hat hacker as reported by some newspapers.
The director of the PTD said the reason Tri was given such a light sentence was that the authorities wanted to admonish rather than punish him.
At a meeting including the PTD, Tri's school representatives and his family on Jan. 3, his family and school representatives took responsibility for not having advised him of related legal matters and supervising his behavior.
For his part, Tri apologized for his actions, adding that he did not know that hacking websites was against the law.
However, Nguyen Tu Quang, an IT expert and director of the Internet Security Center at HPU sent a letter to the press asserting that Tri did not tell the truth and should be strictly punished for his crimes.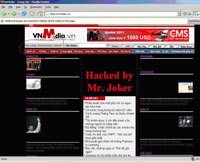 The nickname Mr. Joker Tri left on VnMedia website
In the letter, he stated that Tri confessed to the investigators that he did not warn the MoET website's administrator or contact the administrator before hacking the website.
Mr. Quang said that after having hacked the website, Tri also copied spy ware to it allowing him to re-enter the site even after it had been reconfigured.
"Tri also admitted that he hacked many other websites as well, leaving as a calling card the nickname Guan Yu and an image of a Chinese hero from the novel "Tales of Three Kingdoms". His activities had already been under surveillance for several months when he was caught shortly after his second foray into the MoET website", wrote the expert.
Recently, experts from the high-tech crime prevention department discovered that Tri was not only hacking into government websites but also foreigners' credit card accounts, making purchases online worth thousands of dollars US.
Mr Quang told the press not to praise Tri as some kind of hero or a gifted prodigy because hacking a website is easier than building and protecting one.