The Crime Investigation Police in Ho Chi Minh City on September 4 detained four smugglers who were caught trafficking in 30,000 packs of foreign cigarettes.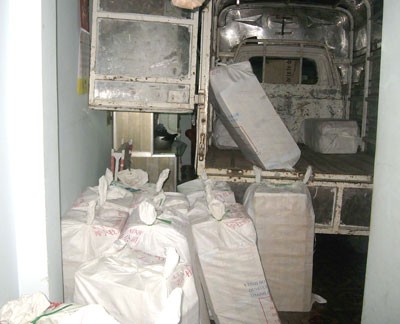 Packages of cigarettes and the truck seized by police(Photo: SGGP)
A day earlier, the City Police had raided a house on Ba Diem 12 Street in Nam Lan Village in Ba Diem Commune in Hoc Mon District and found a truck containing more than 15,000 packs of foreign cigarettes.

Keeping a close eye on the house, the police then detected Duong Minh Hoang, 38, delivering the cigarettes to Lam Van Xuan, 46, in District 12. From him, police seized nearly 10,000 packs of cigarettes.

At the house, police also uncovered three more packages of cigarettes in the kitchen.

After the confessions of the two men, police arrested Vo Quang Cha, 35, and Dang Thanh Quoc, 23, both from the Mekong delta province of Vinh Long who were also dealing in cigarette smuggling.

Police said these people belonging to the large scale cigarette trafficking ring led by a couple T. Each day, people in the ring make from 15 to 20 deliver trips  from Duc Hoa District in the Mekong delta province of Long An to the house for later consumption.