The Ho Chi Minh City Supreme People's Procuracy yesterday indicted a dozen former top executives of the Ho Chi Minh City Power Company in connection with the purchase of 312,000 fake-brand electricity meters.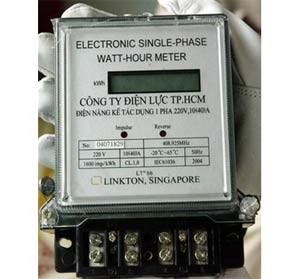 A fake electricity meter manufactured by Linkton Vina

 

Ex-director Le Minh Hoang and his colleagues had been authorized by Electricity of Vietnam (EVN) to put out a tender for 40,000 meters at the approved price of VND340,000 per unit.

They awarded the contract to Linkton Vina of Singapore despite its inadequate tender papers.

The power company then purchased only 10,000 of the 40,000 meters according to the tender, then bought a massive 302,000 meters at the much higher price of VND580,000 per unit directly from Linkton Vina without telling EVN.

In all, the deception cost the power company VND181 million.

According to the tender and purchase contracts, all the meters should have been imported through official channels as they were manufactured in Singapore. Yet there is no record that they ever went through customs.

During their investigation, police from the Ministry of Public Security seized the meters and delivered them to the Ministry of Science and Industry for verification.

The Science Ministry later confirmed in writing that the meters were not the Real McCoy, their labels were counterfeit, and they had not been made in Singapore.

In addition to Le Minh Hoang, the executives charged with deliberately breaching the State's regulations on procurement and money management are ex-deputy director Le Van Hoanh and ten department chiefs.

Five senior executives of Linkton Vina including vice chairwoman Tran Thi Lien and deputy director Tran Cong Dien are due to face court too, for producing and supplying counterfeit goods.