Huynh Ngoc Si, former director of the East-West Highway Project Management Unit in Ho Chi Minh City and former deputy director of HCMC Transport Department, was sentenced to six years in prison today after a court rejected his appeal.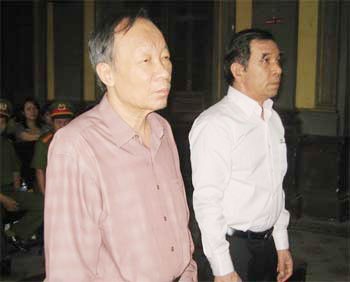 Huynh Ngoc Si (R) and Le Qua at the appellate hearing on March 17. Mr. Si was sentenced to six years in prison and Mr. Qua to five years for "abusing power while on duty." (Photo: SGGP)

The Appellate Court of the Supreme People's Court in HCMC March 17 rejected the appeals for suspended sentences of Mr. Si, 57, and his former deputy Le Qua, 71, who were charged several years ago with "abusing power while on duty."

Mr. Qua received a sentence of five years prison.

Last year, in the first instance hearing, Mr. Si and Mr. Qua were given three and two years in jail respectively for the same charge.

However, the head of the HCMC People's Procuracy proposed the sentences be increased for the two defendants.

The jury said that the first instance sentences did not adequately reflect the seriousness of the defendants' crimes, adding that their wrongdoings caused a loss of VND1.2 billion to the State.

According to judges, Mr. Si and Mr. Qua abused their power to lease a part of the East-West Project office building in HCMC to Japan's Pacific Consultants International (PCI) for US$5,000 per month.

PCI had earlier won the bid to act as design consultant for the East-West Highway Project.

The lease signed by PCI lasted from August 2001 to November 2002, raking in around VND1.2 billion ($80,000). Of the amount, Mr. Si pocketed VND52 million and Mr. Qua nearly VND54 million.

Mr. Si said in court that of the total amount, VND600 million was the rental payment paid by PCI and the rest was a "tip" that the company had rewarded the Project Management Unit for its provision of information that facilitated PCI's works.

However, the court rejected his claim, saying that it had enough evidence to prove the entire amount was the rental payment.