Vietnamese police have so far identified 11 people and arrested seven involved in a notorious ring that trafficked babies to China after catching several people in Ha Noi last month red-handed transporting two newborns to the neighboring country.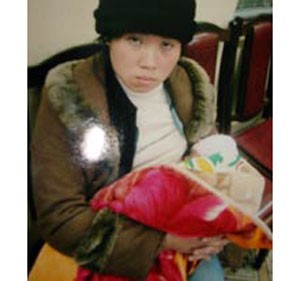 Trinh Thi Nga at the police station
Police have also put two alleged ring members under house arrest and are hunting down the remaining two.
On February 18, Nguyen Thi Thinh, 42, Trinh Thi Nga, 27 and the couple Tham Thi Hoa, 47, and her husband Hoang Duc Hien, 58 were arrested carrying a one-month old and a two-day-old baby en route for China.
The two newborns were allegedly bought from poor rural families for VND3 million each (US$187.5).
The Hoa-Hien couple had also 'deposited' VND8 million (US$500) to an 8-month pregnant woman for her unborn child. Nguyen Thi Ut Nho, 34 from the southern Mekong Delta's Bac Lieu province later told police she badly needed money and had to "let her child be adopted in China".
The gang planned to ferry Nho to China to deliver and sell the baby .
The couple have so far admitted to trafficking at least five children including a baby born on the first day of the Lunar New Year (February 4) who they bought for VND12 million.