Vietnamese police discovered 1,178 economic fraud cases causing losses of more than VND1.8 trillion (about US$118 million) in entire last year, according to the General Department of Police.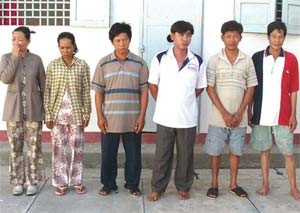 Some smugglers detained by Ho Chi Minh City Police in 2006 (Photo: HCM City Police Newspaper)
These cases included major ones such as big corruption scandals, according to a report released by the department on Sunday.
Other discovered crimes were rackets of telecoms charges, stealing money via credit cards or ATMs, and hacking for money from banks.
Also last year, police found out more than 10,000 cases of smuggling, transport of banned items, making fake products and other economic crimes.