Prosecutor of the Hanoi People's Procuracy Dao Thinh Cuong read the arraignment and the recommended penalty for each of the defendants. The harshest suggested penalty was life imprisonment - and the lightest was suspended imprisonment on probation.

Under the Penal Code, Dinh La Thang, former Politburo member and chairman of PetroVietnam (PVN), would receive 13-14 years in jail on a charge of "deliberate violations of State regulations on economic management causing serious consequences".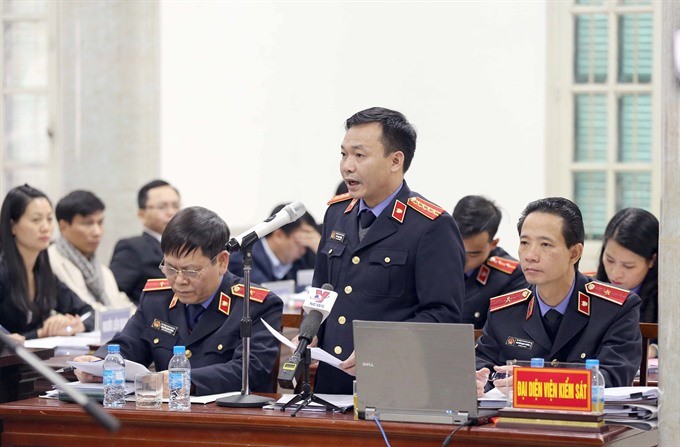 Dao Thinh Cuong from Hanoi People's Procuracy, reads the arraignment on the fourth day of a trial into economic mismanagement and embezzlement. (Photo: VNA/VNS)
"Defendant Thang has only accepted the responsibility as the leader, but has not acknowledged his legal violations, therefore, a strict punishment is in order," the prosecutor said.
Meanwhile, Trinh Xuan Thanh, former chairman of PetroVietnam subsidiary PetroVietnam Construction JSC (PVC), would receive 13-14 years in jail on a charge of violating economic management regulations. He would also get life imprisonment for embezzlement, which would bring his ultimate penalty to life sentence.
Facing punishment on the same charges, Vu Duc Thuan, former general director of PVC, would receive 8-9 years in jail for economic mismanagement and 18-19 years for embezzlement, bringing his sentence to 26-28 years imprisonment.
The prosecutor has also sought the 'extra' punishment of a five-year banning against 11 defendants, Dinh La Thang and Trinh Xuan Thanh included, from holding managerial positions in State-run economic establishments after they serve their sentences.

VNS Infographic
Enforced compensation
The Procuracy asked the judging panel to force the defendants – Dinh La Thang, Trinh Xuan Thanh, Phung Dinh Thuc, Nguyen Quoc Khanh, Nguyen Xuan Son, Vu Duc Thuan, Ninh Van Quynh, Le Dinh Mau, Nguyen Ngoc Quy, Nguyen Manh Tien, and Pham Tien Dat – to compensate the State (represented by PVN) for losses of VND119.804 billion (US$5.247 million).
The Procuracy also recommended the court return to PVN the amounts of money that the defendants and their families have voluntarily submitted to "remedy the consequences."
The Procuracy, in addition, asked for an extension of the Ministry of Public Security's order of restraint on Trinh Xuan Thanh's private assets – including an apartment in the upscale urban area Vinhomes Riverside in Hanoi, an apartment in Costa Residences in Nha Trang City, Thanh's family saving account, and a car – and prevention of any transfers involving these properties.