Police in Hanoi on October 31 started criminal proceedings against Dr. Nguyen Manh Tuong and his company, for dumping the body of a woman in the river, after she died following a cosmetic surgery at his beauty salon.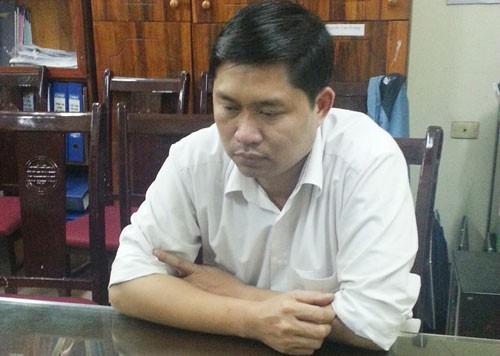 Dr. Nguyen Manh Tuong at police station (Photo; Thanh Nien)
Dr. Tuong was charged with breaching regulations in medical examination and treatment, and other medical malpractices 'as per Article 242 of the Penal Code' and 'interfering with human corpse, graves and/or remains' as per Article 246 of the Penal Code.
His company, Dao Quang Khanh, has been charged for violating a dead body.
As per police indictment, Dr. Tuong has no experience as a cosmetic surgeon and was not granted a license for beauty surgery. Despite this, he still carried out an abdominal liposuction and breast lift surgery for Le Thi Thanh Huyen in Hanoi.
When Dr. Tuong discovered that Huyen had stopped breathing, he and the security guard carried the corpse and dumped it into the Hong River to hide the crime.
The Department of Health in Ho Chi Minh City on October 31 convened a meeting with other beauty salons and private clinics to discuss plastic surgery procedures in the City. According to the health authority, the city has 13,000 private medical clinics including legal and illegal ones.
Dr. Bui Minh Trang, Chief Inspector of the HCMC Health Department, said they discovered that plastic surgery clinics were indulging in similar violations such as faking medical records, exaggerating advertising and not listing service prices.
The health authority said that advertising for beauty surgery is too complicated. Some salons fabricate their services causing misunderstanding between spa and plastic surgery medical clinics.
The health authorities have now asked all beauty centers to report the names of their chief surgeons and verify their license as well as degrees. The information will be publicized on websites of the health department and related agencies and people can be assured of their activities.
Dr. Nguyen Manh Tuong, born 1973, was working in Bach Mai Hospital in Hanoi and was also director of Cat Tuong Beauty Salon on 45 Giai Phong Street in Hai Ba Trung District, and Dao Quang Khanh, born 1996, the security guard of the beauty salon, are both being held in custody.

Related articles:
Search for victim's body in botched cosmetic surgery case

Cosmetic surgeon throws body into river to destroy evidence