Police in the southern province of Dong Nai on Wednesday suggested criminal charges pressed against a robber gang whose gun shot had killed a sergeant in training during a chase on Tuesday.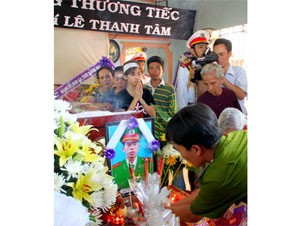 A police officer offers an incense stick at the funeral of Le Thanh Tam, who was killed while chasing robbers Tuesday
Le Thanh Tam, 25, was shot on his chest when he was fighting with the two armed men having robbed a motorbike of a resident.
Pham Quy Ngo, Deputy Minister of the Public Security, said that Dong Nai police had to strictly punished people involved in the case.
Tho also ordered the provincial officials to promote Tam to lieutenant and gave him a big commemoration.
Many police agencies have visited and gave Tam's family around VND100 million (US$4,900) during the funeral.
Tam was chasing the robbers with five other police officers.
One robber Tran Quoc Tuan, 25, was shot dead after he refused to stop and kept shooting back at the police. The other named Bui Van Trung, 25, was caught later the same day.
Colonel Nguyen Phi Hung, deputy director of Dong Nai Police, said that the case was severe, committed by well-organized criminals and had signs of spontaneous violence.
During the chase, the robbers had shot police officer Ho Thong, the motorbike's owner Pham Thai Duong, and local resident Nguyen Van Thanh, causing injuries.
Bravery loss
Tran Tuan Anh, a schoolmate of the dead sergeant who came to the dead sergeant house for the funeral, said that he and other students "admire Tam's bravery.
"What he did was a big example of courage for us to follow."
Tam had one week left before he would graduate and serve as a police officer.
Nguyen Thi Van, a neighbor, said that Tam was always friendly with people and willing to help if needed.
Tam quit college so his family could have enough money to send his three younger sisters to school. He only applied to a police academy in Ho Chi Minh City after two of his sisters got their jobs.
His father has mental illness and his mother sells home-made cakes.
Doan Thi Sua, Tam's mother, said that every day he had days off, he would travel nearly 100 kilometers back home and helped her with everything.
"He came home last week, saying that he would graduate in several days and would be able to help his sister go to school and give a rest from the cakes," Sua said.