A dubious man and wife team was caught by the Binh Duong authorities for extorting money from people after scattering nails across the road to deflate car tires and then using this as a ploy to charge exorbitant sums of money for repairing the flat tires.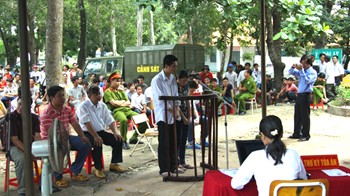 The couple was sentenced at an open trial (Photo: Tuoi tre)
The People's Court in Binh Duong province have sentenced the couple,32 year old Pham Van Canh and his wife 29 year old Bui Thi Nga to serve prison terms. The couple originally hails from the northern province of Thanh Hoa and later migrated to Binh Duong province.
Police revealed that Canh had opened two motorbike repair workshops Thuan Phat and Thanh Cong in Ben Cat district of Binh Duong province. From July 2010 to February 2011, he made diamond-shaped metal nails for spreading on roads leading to his repair workshops.
People driving on these roads invariably had a flat tire caused by the metal nails and landed at Canh's workshop for repairs. He used this as a ploy to charge haphazard and exorbitant fees. For instance, the price of repairing one tire is normally VND23,000-VND32,000 but Canh charged VND60,000- VND90,000; moreover, Canh intentionally destroyed the IC part of the motorcycle to compel the poor stranded victims to buy a new one at VND115,000 (actual cost VND15,000). Later, Canh confessed to extorting about VND12 million.
All his dubious activities were supported by his wife, who aided and abetted him in making the diamond shaped metal nails.
On February 13, Canh was caught red handed while spreading the metal nails on the road. Police officials caught him with over 200 diamond-shaped metal nails. More such evidence was later found at his house.
Canh has been sentenced to 22 months in prison while his wife to 12 months.