Hanoi Police on July 2 arrested Tran Ngoc Huong, director of the Hanoi-based Vietnam Ecology Co. for allegedly swindling people to the tune of US$160,000 with promises of high-paying jobs abroad.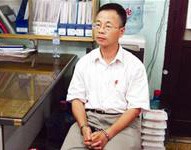 Tran Ngoc Huong in a handcuff at a Hanoi police station (Photo: Tien Phong)
On July 1 the police searched his house at D19 collective quarter Kim Lien and his office in Dong Da District, seizing 50 passports, a clutch of documents, and VND52 million (about US$3,000) allegedly related to the swindle.
Investigators said the 50-year-old man admitted that despite not being licensed as a labor agency, his company had claimed to send workers to France, Australia, South Korea, Bulgaria, Canada, the US, Finland, and other countries.
To lure applicants, VINECO had boasted that jobs would be well paid but require no language or vocational training, the investigation agency said.

In one such recruitment notice, VINECO advertised that it was recruiting tailors and welders for South Korea at salaries ranging from US$920 to 1,800 a month. It demanded commissions of $7,000-8,500 for these jobs.

The investigation is continuing.