The mother of 14-year-old Nguyen Hoang Anh, who was brutally tortured by his employers, has asked that lawyer Nguyen Thi Hong Lien from the Ho Chi Minh City Lawyer Association protects her son's rights in the coming trial.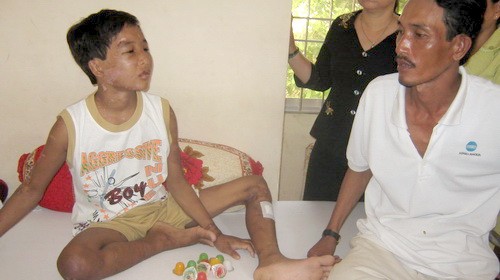 Hoang Anh (L) meets his father who has left him for 14 years (Photo: Tuoi tre)
Police in the Mekong delta province of Ca Mau, after examining Anh on May 4, said the boy had broken teeth, burn marks, a broken nose, and a swollen face as a result of constant beatings and torture by his employers. 

Police said they will use the forensic examination results as evidence to prosecute the couple who are said to have horrifically tortured Anh for more than a year.
Nguyen Truong Ha, deputy head of Dam Doi District, has agreed to the mother's request, while Lien has said she will provide free consultation in the case. Lien said she will charge that Huynh Thanh Giang and his wife, Ma Ngoc Thom, were guilty of culpable homicide in torturing the boy for eight months and demand harsh punishments for the cruel couple.
The boy is recovering well at the police hospital, local reports say. His father, Nguyen Thanh Tan, has reportedly expressed remorse for neglecting his twin sons since they were born. He deserted his wife after the birth of their sons, forcing her to send them to work in order to make ends meet.

Related article:
State to prosecute couple for torturing child
Boy's torture confirmed by doctors
Bring torture case to mobile trial at the earliest, police told