The People's Court in Ho Chi Minh City has sentenced a 23-year-old Chinese woman to life imprisonment on November 13 for smuggling more than 1.9kg of synthetic drugs into Vietnam in October 2012.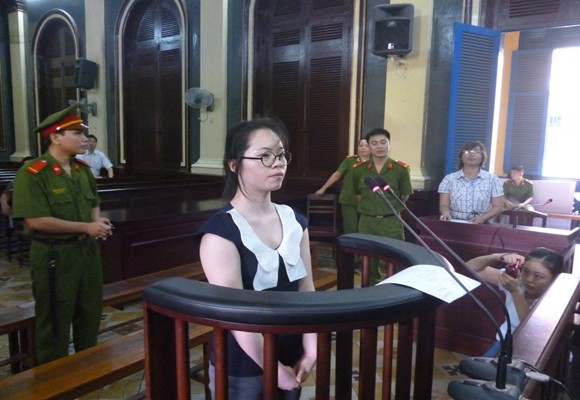 Zhou Bing Xue at court
According to the accused Zhou Bing Xue's testimony in court, in late 2011 she had befriended an African man named Hanny who asked him to transport goods in exchange for money and paid travel costs. Xue agreed to the terms and began delivering goods.
Under instructions from Hanny, Xue came to Hanoi in May 2012, where a foreign woman gave her a luggage piece that contained old clothes.
She carried the luggage to China to give to Hanny and received 3,500 Yuan and travel costs.
 
Subsequently, Hanny continued to ask Xue to go to Bangladesh to pick up more luggage pieces to bring to Vietnam to hand over to a woman. For her work she would receive 4,000 Yuan and traveling costs.
Zhou Bing Xue arrived at Tan Son Nhat International Airport in Ho Chi Minh City on October 15, 2012, where she was intercepted by custom officials and arrested after 1.9 kg of a white powder was found hidden in her luggage. 
Later it was discovered that the powder was methamphetamine, a kind of synthetic drug.
Although Xue said she had no knowledge of the contents of the luggage, she was held accountable for transporting the drugs and sentenced to life.