Public outrage has been expressed after police in Lang Son Province said they will not press charges against those involved in the assault of a Nguoi Lao Dong newspaper reporter on January 6.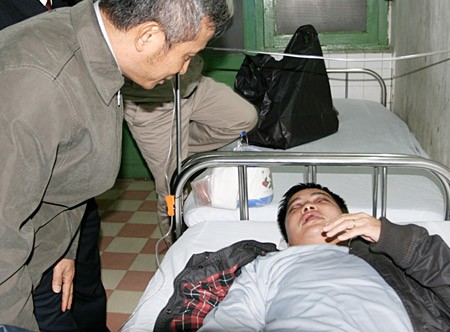 Nguoi Lao Dong reporter Tran The Dung lies in a hospital bed in Lang Son Province after being attacked January 6 while gathering information about smuggling activities in the province. (Photo:SGGP)
Reporter Tran The Dung was beaten by a local resident named Phan Binh An for attempting to gather information on poultry smuggling activities in the province ahead of the lunar New Year.
But while Dung was attacked on January 6, his injuries were not assessed by investigators until February 8, said a representative from Nguoi Lao Dong.
Local police then determined that the extent of Dung's injuries were minor, at "2 percent," though it is not clear how this assessment was arrived at.
Accordingly, An will receive only an "administration penalty" and will not be charged with assault.
He said he was beaten by a group of men while he was taking photos for a report on poultry smuggling in the northern province of Lang Son.
The reporter said that information was provided to police about the other attackers.
On March 4, An admitted that he had not acted alone in beating Dung, but police were unable to find anyone else involved in the case.
A man smugglings chicken from China to Dong Dang town in Lang Son Province.This photo was taken by Nguoi Lao Dong reporter Tran The Dung before he was assaulted by some people.(Photo:SGGP)
Dung and many others have said they are displeased with the investigation carried out by Cao Loc police.
Nguyen Quoc Trung, deputy chairman of the Vietnam Journalist association, said the decision not to press charges goes against an order of Prime Minister Nguyen Tan Dung and the wishes of the association to have the attackers strictly punished.
Lawyer Tran Dinh Trien said that border areas are "sensitive" places where security must be strictly maintained. As a result, a group of people caught beating another person must face charges of "causing public disorder" or "deliberately causing injuries," irrespective of the degree of physical damage caused to the victim.
Minister and Head of the Government Secretariat, Nguyen Xuan Phuc, said Prime Minister Nguyen Tan Dung has asked for more information related to the case to ensure that proper justice is carried out.