Central Bank of Vietnam on November 14 asked HD Bank to take full responsibility for wrongdoings by offering high deposit rates, exceeding the stipulated ceiling, to its customers in its various branches.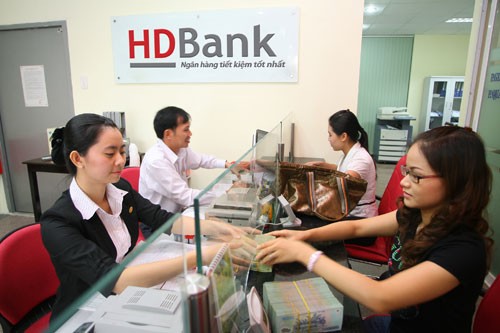 A transaction at HD Bank
Central Bank also asked HD Bank to relieve its deputy director Dam The Thai from his post over such wrongdoings like offering higher deposit rates of 14 percent to customers.

Tran Thu Huong, head of the individual customer department and Vu Anh Thu, head of the non-credit body under the department of marketing and product development for individual customers, may also be sacked.

Central Bank has also asked the board of HD Bank to fire Ton Cam Thanh and Nguyen Loi Vu, managers of Tan Binh and Van Hanh branches, Le Thu Thu Ha, manager of Le Van Sy branch and Le Thu Tuyet Anh, head of the accounts department at the Nguyen Dinh Chieu branch.

The board of HD Bank has also been asked to demote or dismiss many other individuals. Nguyen Van Hieu, director of the Nguyen Dinh Chieu branch, will be transferred elsewhere.

Nguyen Thi Phuong Thao, vice president of the bank's Standing Board, Nguyen Huu Thanh, vice chairman, Nguyen Huu Dang, CEO and board member, Dao Duy Tuong, head of inspection board and board of HD Bank leaders have requested for review of the serious violations in payments to depositors.
The bank's board has to issue a written statement declaring the irregularities and reclaim VND187.2 million. Private commissions worth nearly VND52.9 million paid to Tan Binh branch customers must also be recovered.
HD Bank is not being allowed to open branches, transaction offices, and ATM's throughout the country for a period of one year from   November 20.
Central bank has also assigned a credit growth of 10 percent in 2012 for the bank and asked it to focus on strengthening the organization, limiting credit growth, examining and reviewing the entire system from now till the end of 2012.