After two days of hearing, the People's Court in Ho Chi Minh City passed sentence on six of the defendants on afternoon of September 8, sending journalist Hoang Khuong of Tuoi Tre Newspaper to four years in prison in a bribery case.
Journalist Hoang Khuong (real name Nguyen Van Khuong) of Tuoi Tre Newspaper was sentenced to four years in prison on charges of bribing a traffic police team in Binh Thanh District in HCMC last year.
The prosecutor's office had earlier proposed a 6-7 year sentence for Khuong, but the court overturned it to a lighter sentence, justifying his position as journalist under extenuating circumstances.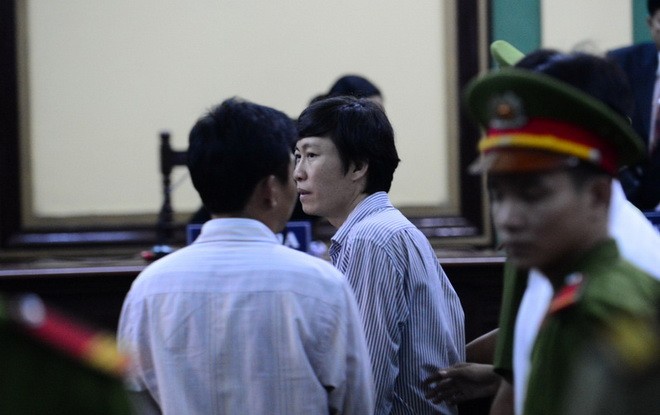 Journalist Hoang Khuong ( middle ) of Tuoi Tre Newspaper recieves four years in prison
Huynh Minh Duc, a former traffic police officer in Binh Thanh District in HCMC was given a five year sentence for accepting bribes.
Tran Minh Hoa, the owner of the impounded motorcycle; Nguyen Duc Dong Anh, Khuong's brother-in-law and friend of Hoa's; and Tran Anh Tuan, vice director of Tan Hai Phong Company, were sentenced to five years, four years and one year respectively for bribery a police team.
Meanwhile, Ton That Hoa, director of Duy Nguyen Private Enterprise, received two years for brokering the bribe.
Khuong had vigorously denied the charge, maintaining he only made a journalistic mistake and did not commit a criminal offense.
Khuong, who has been detained since February 2, asserted that he did not bribe anyone and that he only made the mistake of being involved in handing VND15 million (US$720) to Duc on behalf of traffic violator Tran Minh Hoa – an action that was only aimed at obtaining enough evidence for an exposé story about Duc's corruption.
Laywer Phan Trung Hoai said it is wrong for the prosecutor's office to conclude that his client's act constituted a criminal offense and insisted that Khuong did not violate the law or commit an act of bribery.
Therefore, the lawyer proposed that the jury exempt Khuong from criminal responsibility and release him after eight months in detention.
However, the Judge rejected the lawyer's plea.
The judge maintained that Khuong's acts were for his personal interest and beyond the scope of necessary journalistic activities to serve news coverage.
On giving VND15 million to Duc, the tribunal affirmed that Khuong intended to use this money to offer bribes to retrieve the impounded motorbike. The testimony of Khuong that the given money was for journalistic operational purposes was denied by the Judge, because before giving money, Khuong had not taken note of the serial numbers of the bank notes as evidence.
At the same time, in a letter to the Investigating Police in Ho Chi Minh City, the Editorial Board of Tuoi Tre Newspaper confirmed that Nguyen Van Khuong had not reported to the Editorial Board of the details, such as inform them of the money he would give to Huynh Minh Duc via Ton That Hoa; and that Nguyen Duc Dong Anh, Ton That Hoa and Tran Minh Hoa were not collaborators of Tuoi Tre Newspaper.