Forensic examinations of a 14-year-old boy allegedly tortured by his employers in the Mekong delta province of Ca Mau for over a year confirmed how brutally his wounds had been inflicted, and will be used as evidence by police.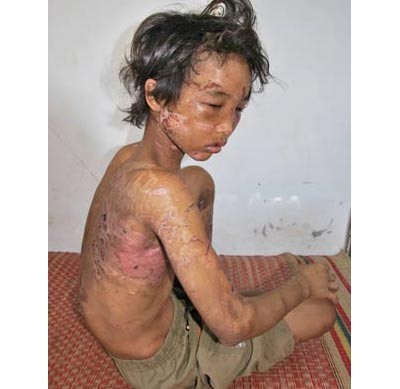 Hoang Anh is being admitted into the hospital with many scars and injuries on his small body. Police will use them as  evidence against the cruel couple
Nguyen Hoang Anh had worked on the Minh Duc Shrimp Breeding Farm in Ngoc Chanh Commune of Huynh Hoang Giang, 30, and his wife, Ma Ngoc Thom, 33, since August 2008.
Experts examining Anh on May 4 said he had broken teeth, burn marks, a broken nose, and a swollen face allegedly as a result of constant beatings and torture by Giang and Thom.
The couple have confessed to some of the more chilling details of the torture described by Anh: pouring boiling water on the boy's back, pressing a hot electric iron on his legs, stuffing hot coals in his mouth, and using pincers to break five of his teeth.
Senior lieutenant colonel Nguyen Hoang Ha, deputy chief of Dam Doi district, Ca Mau province, said police had also filed charges against two other servants, Luu Van Khanh and Lam Ly Huynh, who had helped Giang and Thom torture Hoang Anh.
Earlier, police had filed charges against the couple and took them into custody, but Thom has not been taken in because she is taking care of her 18-month-old baby.
Citizens and organizations have donated to VND31 million to Anh and a lawyer in Ho Chi Minh City is willing to provide free consultation for the boy.
In addition, the Dam Doi district People's Committee ordered the chairman of Ngoc Chanh Commune People's Committee to write a letters acknowledging his dereliction of duty for failing to impose penalties on local officials who had not discovered the crime earlier.
Related article:
State to prosecute couple for torturing child