In response to the ongoing debate about actions by a Vietnamese software security firm, Bach Khoa Internetwork Security Center (BKIS), in detecting and investigating the sources of recent cyber attacks on US and Korean governments' websites, BKIS director Nguyen Tu Quang said the company's acts were appropriate.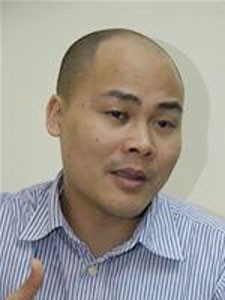 BKIS' director, Nguyen Tu Quang, says his cyber security center was right in its actions in helping detect and investigate recent cyber attacks on websites in the US and South Korea (Photo: Tien Phong)
In an interview with Sai Gon Giai Phong on July 20, Mr Quang was adamant his company was not in the wrong.
SGGP: There is a claim that Korea's Computer Emergency Response Team (KrCERT) did not make an official request to BKIS for its assistance in investigating the attacks. KrCERT said that it only provided BKIS with harmful codes at the request of BKIS.
Mr. Quang: The claims are not exactly true. KrCERT sent two e-mails to BKIS on July 10. In the first email, it urgently asked the Asia Pacific Computer Emergency Response Team (APCERT), to which BKIS is a founding member, for assistance in dealing with the attacks.
In the second, KrCERT asked BKIS and APCERT to prevent some sources of attacks based in Vietnam and to investigate those attacks.
SGGP: There is also a claim that the BKIS's act of attacking and gaining control over two command and control servers to carry out analysis violated Vietnamese and international laws.
A: This claim might be based on an email by Mr. Jinhyun Cho, an expert at KrCERT, which was sent to VNCERT (Vietnam Computer Emergency Response Team) and BKIS. In fact, in the email Mr. Cho did not make such a claim but he just said he anticipated it.

Actually, Mr. Cho did not know about how BKIS gained control over the servers, so his expectations were unreasonable. We will work with KrCERT/Coordination Center about this issue. 

By looking into the two servers, we found the master server that launched attacks on websites in the US and South Korea. Our work was in accordance to related regulations, both in Vietnam and internationally.

SGGP: Participation in dealing with such international cyber attacks may prompt hackers to launch an attack on Vietnam for revenge. So Vietnam should coordinate with other agencies according to international principles, including the one on secrecy. BKIS should not broadly announce information about discoveries related to such attacks.

A: My point of view is that cyber security agencies should not fear hackers, since our fear may make them disregard laws. With the amended penal code, Vietnam has relatively enough legal corridors to deal with cyber crimes. Such a crime can be given a sentence of up to 12 years in jail or a life sentence. The country also has an apparatus and a line-up of experts that are capable of coping with cyber security incidents.

Moreover, in its email, KrCERT wrote: "The substantial problem here is that we fail to detect the real source of attacks. Experts said it is impossible to track down where the attacks were launched."
In face of such a situation, BKIS, as an APCERT member, could not help but take action against cyber attackers.