Two men armed with a knife and an electric baton barged into a jewelry shop in Bien Hoa City in the southern province of Dong Nai and heedlessly attacked the owner of the shop and his son.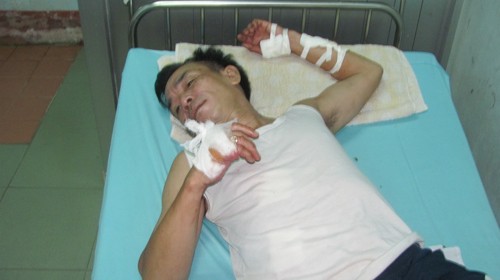 Shop owner Nguyen Huu Quang being treated at the local hospital for stab wounds (Photo: Tuoi tre)
The shop lies in a crowded shopping area of the city and on July 22 two armed men arrived at the shop on a motorbike. One of them entered the shop and asked the owner for delivery of an item he had ordered.
Nguyen Huu Quang, the jewellery shop owner was taking the ordered item out, when suddenly he was attacked by the man who yielded a knife. Quang struggled to grab the knife from his assailant, who faced stiff resistance. While Quang was fending off his attacker, his son Nguyen Thai Binh appeared. Binh immediately rushed to save his father who had already been stabbed on the back and arms.
At that moment, the other man waiting outside ran in and attacked Binh with an electric baton. Then the two men immediately ran out, got on their motorbike and fled.
Quang was later taken to the local hospital with stab wounds on his back, besides other minor injuries. The robbers were unable to take any item out of the jewellery store.