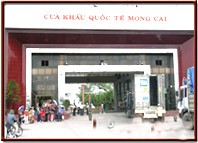 Mong Cai Border Gate
Administrative violations on national border management and border security will be fined, a decree by the prime minister regulated.
Under the decree, the maximum fine will be VND 30 million.
Violations by foreign ships including loading or unloading cargo at unauthorized locations or illegal launching flying objects or landing on ships or other objects in violation of the Vietnamese laws will be fined between VND 15-30 million.
Those who draw, write or erase the signs "Border gate", "Prohibited area" or wander in the forbidden districts will pay a penalty of VND100, 000- VND300, 000.