6 people have been detained in Hai Phong factory fire that killed 13 people, 10 of them female, while 25 were seriously injured in a blaze inside a shoe workshop, in the Tan Dan Commune of northern Hai Phong City, at 4pm Friday.
On July 30th morning, a delegation led by Mr. Duong Anh Dien, Chairman of the People's Committee of Hai Phong visited and paid tribune to the victims.
Local authorities have given VND10 million to each family of the dead victims and VND3 million to the injured.
The fire, which had been extinguished within one hour, were triggered by welding cinders, said Pham Van Moi, spokesman for Hai Phong People's Committee at the press briefing at 10p.m yesterday.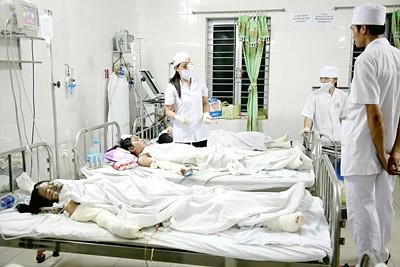 The victims of the fire are undergoing emergency treatment at Viet Tiep Hospital.
Police said after preliminary investigations that the factory located in Dai Hoang hamlet, Tan Dan commune of An Lao district covering an area of 70m2 didn't have a back door while its main door had been blocked by the intensive flames as the fire occurred.
The workshop was owned by a Chinese man A Phong ( born in 1971) and his Vietnamese wife Bui Thi Thu Hien ( born in 1987) who lost two younger sisters in the fire.
The house was rented by the Chinese man to manufacture footwear products. The owners of the house are Nguyen Van Lanh and his wife Hoang Dinh Su.
Investigations found that Bui Thi Su on Friday hired Le Van Bay, 26, to weld the factory's lightning rod. While Bay and his brother-in-law Linh were doing the job, a spark from the welding tools set a sponge on fire, which quickly spread out soon after.
Police have also detained 6 people for their involvement in the accident including couple A Phong and Bui Thi Lien (The factory's owners), Bui Thi Su, ( born in 1967), Le Van Bay, Bui Duc Lang ( born in 1962) and his brother-in-law Linh.
According to the police, A Phong and Lien were arrested in Quang Ninh province when they were on the road to Mong Cai province to escape to China.
All of them have been charged with violating safety regulations.
Without a business licence or a fire escape, the 100 sq.m workshop had been operating for the last three to four months, employing 70 regular workers, before it burnt to the ground.
As part of their investigations, local police have arrested six people suspected culprits, Moi said.
According to the spokesman, municipal authorities plan to provide the berieved family with financial aid of between VND5 and 10 million (US$240-490).
Nearly 50 workers inside therefore couldn't escape.
There had been several unsuccessful attempts to rescue the victims because a big wall hindered the rescue.
Firefighters arrived on the scene 20 minutes later to extinguish the fire, which was put down at 5:00 pm the same day.
According to local police, 13 workers were burnt to death and 14 others are suffering severe injuries, who are undergoing emergency treatment at Viet Tiep Hospital.
Meanwhile, 10 other workers were reportedly taken to some hospitals in the city for treatment.
Among the perished is a pregnant woman. Local residents said an electric circuit may be the cause of the fire.