Inter-ministerial inspectors carried out searches at two foreign enterprises in Binh Duong Province near HCMC on July 9-10, finding they have used illegal software programs.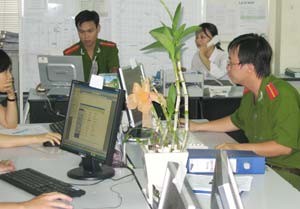 Inspectors search at Yazaki Eds Vietnam Ltd. on July 9
The inspectors, who come from the Ministry of Police and the Inspectorate Office of the Ministry of Culture, Sports and Tourism, searched Yazaki Eds Vietnam Ltd, a 100% Japanese-owned producer of automobile electric wires, on July 9, and Full Power, which is managed by Taiwanese man Chen Li, on July 10.
At the first company, the authorities found 60 computers containing unlicensed software programs which are pirated copies of popular business software programs. According to the inspectors, the total value of pirated software found was estimated at nearly VND3 billion.
Mr. Yoshio Sugimoto, director of Yazaki Eds, admitted that the programs were used for the company's business activities without authorization.
At the second company, the inspectors also found a number of computers containing pirated copies of popular software programs. Mr. Blake Bai, a company representative admitted that some of the computer programs were used without authorization. The estimated value of pirated software was about VND1 billion, according to the inspectors.
The inter-ministerial inspectors said that they would issue the fining decisions to the two companies, subject to the Law on Intellectual Property Rights.