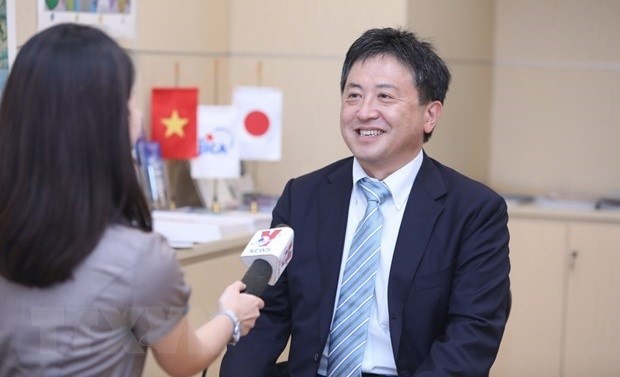 Chief Representative of the JICA Vietnam Office Shimizu Akira grants an interview to the Vietnam News Agency. (Photo: VNA)
So said Chief Representative of the JICA Vietnam Office Shimizu Akira in an interview granted to the Vietnam News Agency.He noted that cooperating with Vietnam since 1992, JICA has provided over JPY3 trillion (US$23.5 billion ) in financial aid, sent about 15,000 Japanese experts to the Southeast Asian country, and trained 27,000 Vietnamese personnel.
Via close cooperation with Vietnamese partners, JICA projects have obtained substantial achievements, helping the country realize the Sustainable Development Goals and promoting cohesion and development across the entire Association of Southeast Asian Nations (ASEAN). In fiscal year 2021, JPY10.8 billion in loans was committed to Japan's ODA projects, JPY4.9 billion in assistance supplied via technical cooperation projects, and another JPY 700 million for non-refundable aid projects. These projects numbered more than 100, according to Shimizu.
He also highlighted cooperation in health care, including Covid-19 control, personnel training, water drainage and wastewater treatment, wind power development, and urban railway construction.
Pointing out some obstacles to the implementation of ODA projects, the Chief Representative said as public investment plays a crucial role in fostering Vietnam's economic growth, the Vietnamese Government should issue new policies to step up the solid and effective completion of existing projects and form new projects matching the country's orientations.
Shimizu noted that in 2023, when diplomatic ties turn 50, apart from exerting stronger efforts to contribute to Vietnam's development via ODA cooperation, JICA will further boost people-to-people connectivity to help cement the two countries' friendship so that their relations will continue to be enhanced and make breakthrough progress in the next 50 years.
This year, JICA will focus cooperation on four areas, namely developing high-quality infrastructure, human resources training, health care, and carbon neutralisation, he said, expressing his hope that Vietnam will continue using ODA effectively and consider this as a convenient capital mobilisation method and a way to apply foreign advanced technologies in the country.