Officials Tuesday ordered the arrest of ousted President Manuel Zelaya if he returns to Honduras after being expelled in an army-backed coup, as thousands of protesters took to the streets here.
And as the UN backed international calls for Zelaya to return to power, the ousted leader said in New York that he would not seek a second term in office -- a key concern in the tense political showdown.
Zelaya, 57, was removed in his pajamas by Honduran troops Sunday and put on a plane to Costa Rica amid a dispute with the military and courts over plans to change the constitution, including to allow him to run for a second term.
Attorney General Luis Alberto Rubi said Tuesday that Zelaya would "immediately" be arrested if he returned to Honduras, where legal officials have accused him of 18 crimes including "treason" and "abuse of authority."
Zelaya has vowed to return on Thursday, which many fear could spark clashes between his supporters and opponents.
But he apparently sought to defuse the tensions Tuesday by making clear he would not seek to extend his non-renewable four-year term to which he was elected in 2005.
"If offered the possibility to remain in power (for a second term), I would not do it," the ousted leader told a press conference in New York.
"I am going to fulfill my term up until January 27," added Zelaya.
Just hours after Zelaya was deposed, the Honduran Congress swore in its speaker Roberto Micheletti as the interim president until January.
Demonstrations grew Tuesday after protesters on Monday defied a 48-hour curfew issued by Micheletti, triggering violent clashes on the streets of the capital, Tegucigalpa.
Micheletti said Tuesday that he would consult with security forces about whether to continue the curfew, and blamed unspecified foreigners for assisting groups carrying out acts of violence, speaking on Colombian radio.
"It's better without Mel (Zelaya's nickname)," read one banner held up among thousands of anti-Zelaya protesters in the capital's main square Tuesday, among a sea of blue and white striped Honduran flags.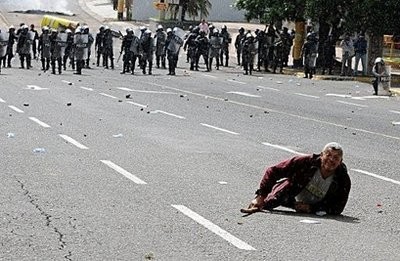 A demonstrator lies in the street during clashes between supporters of ousted Honduran President Manuel Zelaya and soldiers and policemen in Tegucigalpa on June 29, 2009
Pro-Zelaya union leaders announced a national strike and accused soldiers of blocking roads to prevent demonstrators from traveling into the capital.
They said at least 10,000 people were taking part in pro-Zelaya protests in the capital, as well as in other protests around the country.
Clashes near the presidential palace left a number of demonstrators and security forces injured on Monday.
The army said 15 soldiers and 15 officers had been injured, while protest organizers reported 276 injured in the most serious violence in years in this impoverished Central American country of 7.5 million people.
Zelaya took his case before the UN in New York on Tuesday shortly after the 192-member General Assembly adopted a resolution condemning the army-backed coup and demanding his "immediate and unconditional" reinstatement.
Zelaya's key ally, regional leftist heavyweight Venezuelan President Hugo Chavez, meanwhile warned that Zelaya's decision to return on Thursday represented a danger for him and those accompanying him.
The chief of the Organization of American States, Jose Miguel Insulza and Argentine President Cristina Kirchner have offered to join Zelaya on his return.
Politicians, business leaders, most communications media and a good part of the population have applauded Zelaya's overthrow, despite the violent street protests and international outrage.
And US President Barack Obama said Washington believed Zelaya "remains the president of Honduras."
Zelaya was set to pass through the US capital on Wednesday on his way back to Honduras.
Spanish Foreign Minister Miguel Angel Moratinos meanwhile said that Madrid, the former colonial power, wanted the European Union to recall its ambassadors.
Honduras' neighbors in Central America have also agreed to isolate Tegucigalpa politically and economically, ordering the regional bank to suspend loans and payments to Honduras.