BANGKOK, July 19, 2011 (AFP) - Thailand's prime minister-in-waiting Yingluck Shinawatra was on Tuesday approved to enter parliament, election officials said, paving the way for her to become the country's first female premier.
Yingluck, the sister of ousted former leader Thaksin Shinawatra, was given the go-ahead by Thailand's Election Commission (EC), after it delayed ratifying her over campaign irregularity claims last week.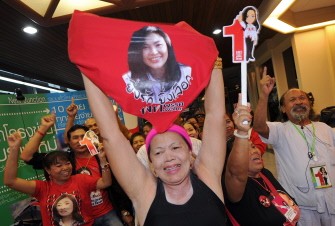 AFP - Supporters of Yingluck Shinawatra shout slogans as they know Election Commission approved her at Puea Thai Party headquarter in Bangkok on July 19, 2011
The vote body dismissed the allegations against Yingluck, whose Puea Thai Party won a thumping majority at the July 3 election.
"The committee has investigated the facts and cannot find any violations of electoral law," EC secretary-general Suthipon Thaveechaiyagarn told reporters after a commission meeting.
Outgoing premier Abhisit Vejjajiva was also among the 12 parliamentary candidates endorsed Tuesday to become members of the 500-seat lower house.
Although 370 candidates have now been approved by the EC, another 105 must be ratified for parliament to convene, as required, within 30 days of the election.
About three-fifths of the lower chamber's seats are set to be held by a six-party coalition formed by political novice Yingluck.
The vote body's delayed endorsement had raised questions over her appointment and fears of fresh instability in the politically divided country.
In the most extreme scenario, the electoral commission can issue a "red card" to a candidate, which would mean a one-year ban from politics.
Any move to disqualify Yingluck would have risked further ruptures in Thailand's already fractured political landscape and enraged the opposition "Red Shirt" protest movement, whose rallies in Bangkok last year turned deadly.
The vote body dismissed the complaints by Abhisit's Democrat Party that banned politicians were involved in Yingluck's campaign.
She was cleared earlier of a separate complaint that she sought to buy votes by giving away noodles she cooked during campaigning.
Two Thaksin parties have been dissolved by the courts in the past and their top executives, including the former leader, were barred from politics.
While the slogan "Thaksin thinks, Puea Thai does", was prominent ahead of the election, Yingluck has said she received only guidance from her brother, who lives in self-imposed exile to avoid a jail sentence for corruption.
Abhisit was cleared over allegations that the sale of discount goods at a fair he attended constituted vote-buying.
In another case, the People's Alliance for Democracy (PAD), which campaigned to persuade people not to vote for any party and is fiercely opposed to Thaksin, is seeking to void the election result because two million Thais were not able to vote.
A court ruling is expected on Wednesday.