Supporters of Kenya's proposed new constitution have mustered twice as many votes as its opponents with more than six million ballots already tallied on Thursday, provisional results showed.
No victor was yet declared by the Interim Independent Electoral Commission (IIEC) but the "yes" camp of President Mwai Kibaki and Prime Minister Raila Odinga looked to be headed for a comfortable win.
The IIEC did not announce turnout but polling officials put the figure at around 70 percent after polling stations closed on Wednesday.
With 12.4 million registered voters in the country, a 70 percent turnout would mean the "yes" camp needs around 4.3 million votes to secure victory.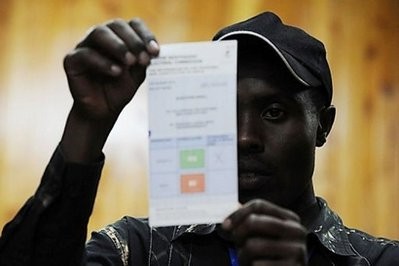 A Kenyan poll worker helps count votes at a local polling station in the western Kenyan town of Eldoret.
The latest provisional figures early Thursday showed it already had 4.1 million to the "no" camp's two million.
A dispute over the results of the December 2007 election which led to deadly violence started amid suspicion over the transparency of the tallying process, which lasted three days, and the independence of the electoral commission.
The electoral board's members were subsequently changed, its methods modernised under international guidance and the results came in fast on Wednesday.
The provincial breakdown of the provisional results showed that the Rift Valley, which saw some of the worst 2007-2008 violence, voted overwhelmingly against the new constitution.
Led by Higher Education Minister William Ruto, the "no" camp has criticised the proposed constitution over clauses on abortion and land but promised to accept the outcome of the referendum.