BANGKOK, Aug 7, 2010 (AFP) - Thailand's Prime Minister addressed "Yellow Shirt" protesters Saturday at a rally held in defiance of emergency rules banning political gatherings.
Police said around 2,500 demonstrators -- many wearing yellow and waving national flags -- gathered at a sports stadium in Bangkok, after protesters agreed a change in venue to avoid confrontation with the authorities.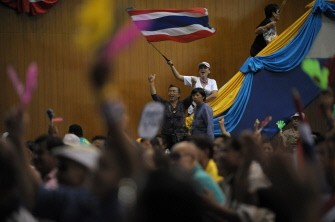 Thai 'Yellow Shirts' wave clappers and national flags during a rally in Bangkok on August 7, 2010. AFP
Crowds cheered Prime Minister Abhisit Vejjajiva, who spoke to placate demonstrators' concerns over a territorial row with Cambodia.
Political meetings of more than five people are prohibited under a state of emergency imposed in Bangkok in April during mass anti-government protests.
But a last-minute deal to relocate the rally, organised by the Thai Patriotic Network, from outside Government House appears to have appeased authorities, which had warned the protest would not be allowed to go ahead.
Around 300 demonstrators did turn up at the government compound, but they were persuaded to move to another area.
The Yellows, known as the People's Alliance for Democracy (PAD), have previously allied themselves with the current Thai political leadership but the protest is the latest sign that the group is flexing its political muscle.
The PAD has criticised the governing Democrat party for signing up to a deal with Thailand's neighbour in 2000 that the Yellows believe paved the way for recognition of a Cambodian land claim.
The group has demanded that Thailand tear up the memorandum of understanding, eject Cambodian citizens from the disputed 4.6 square kilometre (1.8 square mile) area, and try to regain control of the ancient Preah Vihear temple.
Abhisit demurred when pressed on plans for military action over the land row, but insisted Thailand would stand its ground on the issue.
"We will not accept actions which violate our territory," he added.
The Yellow Shirts, who are backed by the Bangkok-based elite and pledge their allegiance to the monarchy, are a force to be reckoned with in Thailand's colour-coded political landscape.
Their 2006 rallies helped trigger a coup that unseated fugitive former prime minister Thaksin Shinawatra, hero of the mostly poor, working class "Red Shirts", whose protests in Bangkok this year culminated in deadly clashes with troops.
Red Shirts have complained of double standards in the way authorities treat their movement.
Many Red leaders are in prison after their rally -- during which about 90 people died and nearly 1,900 were injured -- but there has been little action against Yellows over a 2008 airport siege that left thousands stranded.