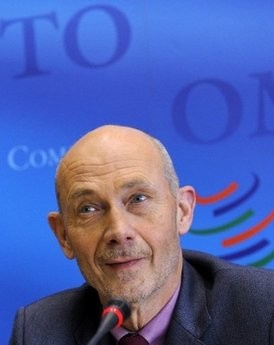 World Trade Organisation chief Pascal Lamy seen in March 2010 (AFP file)
MANAMA (AFP) – The conclusion of the stalled Doha Round of free trade talks is crucial to the recovery from the global financial crisis, World Trade Organization chief Pascal Lamy said on Sunday.
"The Doha Round, at this moment of the crisis exiting, is a vitally needed and, to be frank, a very low cost global economic stimulus package," Lamy told participants at an economic forum in Bahrain.
"Estimates suggest that the implementation of this round... would inject to the tune of 300-400 billion dollars a year into the global economy," he told participants at the Bahrain Global Forum.
The Doha Round of talks launched in 2001 were due to be wrapped up in March, according to a target set by the G20 group of leading and emerging economies, but previous deadlines have been repeatedly missed.
The negotiations have focused on dismantling obstacles to trade for poor nations by striking an accord that would cut agriculture subsidies and tariffs on industrial goods.
Discussions have been dogged by disagreements over issues including how much the United States and the European Union should reduce aid to their farmers and the extent to which developing countries such as India, China and South Africa should lower tariffs.
"When we look at the agricultural subsidies of members such as the EU, the US, Japan or Switzerland that have crowded developing world exports out of international markets, you discover the need for the Doha Round," Lamy said.
"These subsidies would be slashed by about 80 percent," if the talks were to reach a conclusion.
The WTO director-general highlighted US resistance to the Doha Round resulting from different congressional interests, saying that Washington was trying to get more concessions.
"The US are seriously attempting to conclude these negotiations on more US terms than what's already on the table," he said, adding such a position might "trigger counter requests".
But he said negotiations were at a stage where political intervention was needed from US President Barack Obama to "take the risk" of sending a bill to Congress.
Last month, members of the Cairns Group of agricultural exporters urged resistance to protectionism and the revival of the Doha Round.
The Cairns Group comprises Argentina, Australia, Bolivia, Brazil, Canada, Chile, Colombia, Costa Rica, Guatemala, Indonesia, Malaysia, New Zealand, Pakistan, Paraguay, Peru, Philippines, South Africa, Thailand and Uruguay.
In his address, Lamy noted however that WTO members have adhered to commitments made through the organisation by not returning to protectionist policies despite the global crisis.
"Trade is as open today as it was at the beginning of the crisis," he said, adding this showed the WTO members' "refusal to turn their backs on policies that helped integrate them into the world economy."
Lamy also said that world trade was recovering after dropping due to the crisis.
"Today, we are seeing a V-shaped recovery of world trade. After a fall of 12 percent terms in 2009, we now forecast a rebound of world trade of about 9.5 percent this year," he said.