The head of the World Trade Organisation (WTO) said on Friday that bilateral talks between major trade powers to revive the Doha trade round were still moving too slowly.
"Things are progressing with the major actors but at a speed which is too slow for me to decide to convene the ministers next week or the week after," Pascal Lamy told reporters in Manila.
Earlier this week, Lamy said he sensed fresh determination to conclude the Doha round of global trade talks, first begun in 2001, but would wait for more substance before calling trade ministers together for that purpose.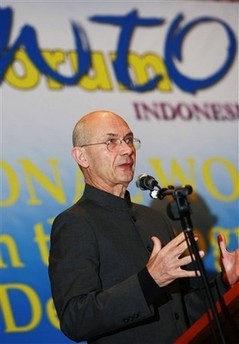 World Trade Organization chief Pascal Lamy
One factor concentrating negotiators' minds is the fact that U.S. President George W. Bush's fast-track trade authority, which makes it easier for Washington to reach agreements, only runs through June unless Congress renews it.
That is not a certainty with the U.S. Congress now controlled by the opposition Democrats.
"The breakthrough has to come in the first part of the year," Lamy told reporters in Manila, where he was addressing a business conference.
"The distance between a breakthrough and a final conclusion, I would say, (is) roughly...eight months."
Lamy relaunched the talks in January after a six-month hiatus. The Doha round is designed to boost the global economy and help lift millions out of poverty through more trade and investment.
Discussions broke down in July 2005 after major powers locked horns over politically sensitive issues, especially calls to dismantle agricultural protection.
A handful of protesters, including some farmers' representatives, protested inside the conference in Manila on Friday, chanting "Get out, Get out" at Lamy.