A young French author has formally accused former International Monetary Fund chief

Dominique Strauss-Kahn

of attempted rape, breaking her long public silence with a dramatic account of fending off an attacker who ripped at her clothes as they fought on his apartment floor.
Tristane Banon's criminal complaint, which was filed Tuesday, was already spawning an ugly public battle that appeared to be dividing France and follows trans-Atlantic mudslinging over the Guinean chambermaid who accused Strauss-Kahn of forcing her to perform oral sex in his New York hotel room.
The sudden weakening of the maid's case because of New York prosecutors' doubts about her credibility revived hopes in Strauss-Kahn's Socialist Party that he could return to France and retake his position as the strongest potential challenger to conservative President Nicolas Sarkozy in the 2012 election.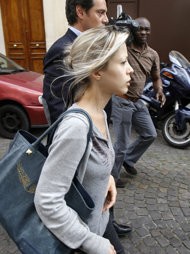 Tristane Banon and her lawyer David Koubbi leave the lawyer's office in Paris, Tuesday …
Those hopes could be undermined by the 31-year-old writer's legal action, which is expected to set off a lengthy preliminary investigation by prosecutors into whether there is enough evidence to pursue a case in France.
While many here saw Strauss-Kahn, 62, as a victim of rough U.S. justice, the French public may recoil at a drawn-out case in French courts brought by a woman whose mother is a Socialist Party official. Polls already have found French voters evenly divided over whether they want Strauss-Kahn to return, with women more likely to object to his reviving a political career.
A poll of 860 people conducted over the weekend by the magazine Nouvel Observateur found that 54 percent didn't want Strauss-Kahn to run in the Socialist Party primary, and 63 percent didn't believe that he would end up running.
"He grabbed my hand, then my arm, I told him to let me go and that's when the fight started. He pulled me towards him, we fell down and fought on the ground for a few minutes," Banon told the news magazine L'Express.
She said she started kicking him with her boots, then finally broke free, ran down the stairs and called her mother from her car.
"I couldn't even drive I was trembling so much," she said. The Associated Press does not name alleged victims of sexual crimes unless, like Banon, they choose to publicly identify themselves.
Strauss-Kahn allies took to the airwaves Tuesday to try to undermine Banon and question the timing of her complaint about an incident that she says took place in 2003, when she was trying to interview Strauss-Kahn for a book project. Banon first recounted the incident on a 2007 TV show in which Strauss-Kahn's name was edited out.
Her lawyer began discussing the possibility of bringing charges after Strauss-Kahn's May 14 arrest in New York, but Banon still said very little.
"Tristane Banon has been telling her story for months and years. She's filing her complaint today," Socialist lawmaker Jean-Marie Le Guen told reporters. "In that, I see a certain opportunism that I associate with this mudslinging, these disinformation campaigns against Dominique Strauss-Kahn at the moment when American justice is about to acknowledge his innocence."
Strauss-Kahn's lawyers on Monday labeled Banon's account "imaginary" and said they would file a criminal complaint of slander against her.
Banon told L'Express that she was tired of hearing "lies and rumors" told about the incident.
"I can't take it anymore hearing that I must be lying because I haven't filed suit," Banon said.
Strauss-Kahn was freed from house arrest, without bail, on Friday after New York prosecutors acknowledged they had discovered problems with the credibility of the Guinean hotel maid who accused him of sexual assault. But the charges of attempted rape and other crimes still stand.
In a further twist to the saga, his New York accuser filed