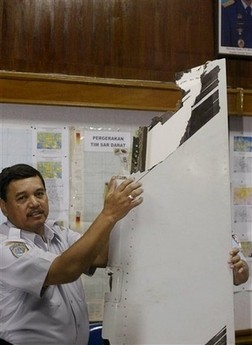 National Search and Rescue agency Chief Bambang Karnoyudho displays a part of the missing Adam Air plane tail Thursday, Jan. 11, 2007 in Makassar, Indonesia
Part of the wreckage of a missing Indonesian passenger plane that vanished off radar screens on January 1 has been found at sea, search and rescue officials announced.
The official, Air Marshal Eddy Suyanto, said part of the plane's right tailfin had been found by a fisherman 300 metres (1,000 feet) from shore and identified by the airline, Adam Air.
Frans Wenas, one of the investigators, told ElShinta radio: "The thing that was found is part of the tail and it fits the plate number of the plane.
"But we have not determined when it was separated from the plane."
The Boeing 737 had 96 passengers, including three Americans, and six crew on board when it was reported missing halfway through its flight from Surabaya on Indonesia's central Java island to Manado on Sulawesi island.
Search efforts had been focused in recent days on the waters off Sulawesi, with a US Navy ocean survey ship equipped with sonar scanning the seabed after earlier reports of large metal objects several thousand metres down.
Canada and Singapore also sent aircraft to join the search, while on land rescuers combed the rugged terrain of Sulawesi island.
Suyanto said the piece of debris had been found by the fisherman at 3:00 am Thursday (2000 GMT Wednesday) offshore, eight kilometres (five miles) south of the town of Pare Pare.
"The search will now focus in the sea," said Bambang Karnohyudo, who heads the Indonesian Search and Rescue service.
Indonesia, a vast archipelago nation stretching more than 5,000 kilometres (3,100 miles), relies on air and sea transport. Accidents are common and there has been criticism of poor safety and aviation standards.
Bad weather and the sheer difficulty of combing the mountainous forest-clad island, as well as a vast swathe of sea, have hampered the search for the Adam Air plane.
The operation was also marred by an embarrassing communications mix-up when officials at first reported the wreckage had been found on a remote mountain, only for those reports to turn out as false, leaving relatives distraught.