News agencies at a world congress in Azerbaijan agreed this week to work together to eliminate false and biased reporting, source from the Yonhap said on November 18.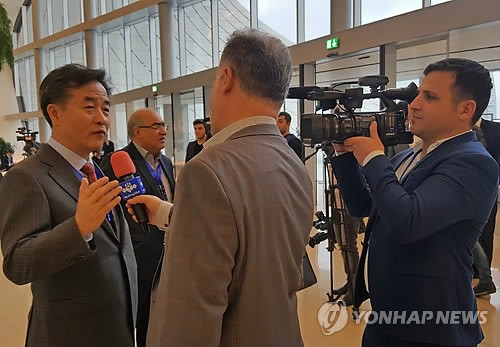 Yonhap President Park No-hwang speaks in an interview with a foreign broadcaster at the 5th News Agencies World Congress in Baku, Azerbaijan, on Nov. 16, 2016. (Yonhap)
The consensus came during the 5th News Agencies World Congress that concluded Thursday in the Azerbaijani capital of Baku with some 90 news agencies from 80 countries in attendance.
During the two-day conference, news agencies discussed the challenges they face in the digital media and new media era. North Korea's Korean Central News Agency was among the participants.
South Korea's leading newswire service, Yonhap News Agency, presented a new platform that will allow media outlets to share news in real time during the 2018 PyeongChang Winter Olympics.
The platform, called the "PyeongChang News Service Network," would also allow them to exchange news content for free.
"News agencies that serve as news hubs in different parts of the world must cooperate effectively to overcome the challenges of the new media era," Yonhap President Park No-hwang said during a panel session. "The PyeongChang News Service Network will become a foundation for such cooperation."
News agencies agreed that it has become increasingly difficult for independent and balanced media to survive in the current environment where articles are reprinted without permission and intellectual property rights are often infringed upon.
They also stressed the importance of protecting journalists who have become targets of extremism, conflict and authoritarianism.
According to UNESCO, at least 827 journalists were killed on duty in the past 10 years.
In a message sent to the congress, U.N. Secretary-General Ban Ki-moon voiced concern that developments in technology and business models have opened a new frontier for press freedom but also led to the spread of inciting and misleading reports.
The congress has been held every three years to bring together news agencies that serve as a news hub for other outlets, such as newspapers, TV, radio and Internet sites. This year, it was held under the theme of "New Challenges for News Agencies."