HONG KONG, July 14, 2011 (AFP) - World leaders expressed anger and revulsion Thursday at triple bomb blasts that killed 17 people and left more than 140 injured in India's commercial capital Mumbai.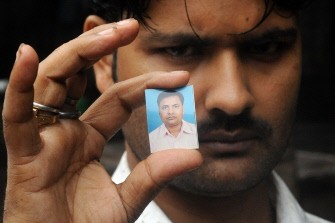 AFP - Indian mourner Mahant Mandal holds a photograph of his brother Kishan Mandal after his death in a bomb blast in Mumbai on July 14, 2011.
The coordinated explosions hit busy shopping and residential districts across the city, which is still emerging from the shadows of the 2008 militant attack that left 166 people dead.
US Secretary of State Hillary Clinton called the attacks "despicable" and vowed to visit India next week as planned, while while Democratic House leader Nancy Pelosi said the violence had shocked "civilised people everywhere".
"I believe it is more important than ever that we stand with India, deepen our partnership, and reaffirm our commitment to the shared struggle against terrorism," said Clinton, whose trip follows President Barack Obama's state visit in November.
No group has claimed responsibility for the explosions which hit at rush hour on Wednesday.
But suspicions initially fell on the home-grown Indian Mujahideen and the Pakistan-based Lashkar-e-Taiba (LeT), both Islamist groups that have targeted India in the past.
The president and prime minister of Pakistan, India's arch-rival which Delhi blames for the 2008 Mumbai attacks, were among the first world leaders to condemn the blasts, voicing "distress on the loss of lives and injuries".
The UN Security Council "reaffirmed that terrorism in all its forms and manifestations constitutes one of the most serious threats to international peace and security".
Indian Home Minister P. Chidambaram, who arrived at the scene within hours along with forensic experts and anti-terror commandos from New Delhi, told reporters the bombings were part of "a coordinated attack by terrorists".
The most powerful devices exploded at a wholesale gold market and a district housing diamond traders and jewellery shops in southern Mumbai, while a third blast occurred in a middle-class area to the north.
"It is another attack on the heart of India," said the chief minister of Maharashtra state, Prithviraj Chavan, who described it as a "challenge to Indian sovereignty".
Indonesia, the world's most populous Muslim-majority country, led a chorus of condemnation from Asia Pacific nations which have also suffered from terrorism, including Australia and Sri Lanka, which ended 37 years of ethnic conflict with Tamil Tiger rebels in 2009.
"Indonesia... expresses its full sympathy and condolences to the government and people of India for the loss of lives and the injuries caused as a result of that heinous and cowardly act," Foreign Minister Marty Natalegawa said.
Australia, which lost 88 citizens in the 2002 Bali bombings, said such "wanton acts of terrorism" had no place in the civilised world.
China pledged to work with its southern neighbour to combat terrorism, with foreign ministry spokesman Hong Lei saying the country was "shocked by the heavy casualties and losses caused by the blasts".
European Union foreign policy chief Catherine Ashton denounced the bombings as "heinous" while Britain and France reaffirmed their support for India in the fight against terrorism.
Canadian Prime Minister Stephen Harper offered "our deep and profound sympathy and condolences to the families and loved ones of those killed and injured by these heinous acts of violence, including Canadians who may have loved ones in Mumbai."