UN chief Ban Ki-moon said Pakistan faces a "slow-motion tsunami" as the flood-ravaged nation pleaded for a massive injection of global aid, warning that extremists could exploit the crisis.
Ban told a UN emergency fundraising session in New York Thursday the world had a duty to act with millions still without shelter and a fifth of the country submerged by flood waters.
"It is one of the greatest tests of global solidarity," Ban told the General Assembly meeting, adding that Pakistan was facing a "slow-motion tsunami."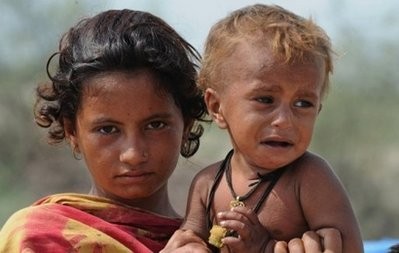 Flood-affected Pakistanis are seen in Bassera village on August 18, 2010
Although weather forecasters say the monsoon systems are easing off and water levels receding, the fallout from three weeks of devastating floods that have left nearly 1,500 people dead is likely to last for years.
There are growing fears that extremists may harness the discontent to further destabilise Pakistan's embattled government.
"I stand before you as the voice of 20 million Pakistanis devastated by the floods," Pakistani Foreign Minister Shah Mehmood Qureshi told the meeting in New York.
"The massive upheaval caused by the floods and the economic losses suffered by the millions of Pakistanis must be addressed urgently. We cannot allow this catastrophe to become an opportunity for the terrorists."
The nuclear-armed nation of 167 million is a top US foreign policy priority due to concerns over Islamist extremism.
Washington says its porous border with Afghanistan provides cover for extremists to launch attacks on US-led troops fighting a nine-year insurgency there.
Pakistan is also locked in battle with homegrown Taliban who have been blamed over a three-year bombing campaign that has killed more than 3,570 people.
In a poignant video message to the meeting, US Secretary of State Hillary Clinton urged generosity, saying: "This is a defining moment -- not only for Pakistan, but for all of us."
Clinton doubled US aid from 90 million dollars to 150 million dollars, while Britain said it planned to double its contribution to more than 64 million pounds (99 million dollars).
The US pointman on Pakistan called on China to join the global effort, saying billions of dollars would be needed for the country's reconstruction.
"I think the Chinese should step up to the plate," Richard Holbrooke told reporters at an Asia Society event before the UN meeting.
At least six million flood survivors in desperate need of food, shelter and clean drinking water require humanitarian assistance to survive, as concerns grow over potential cholera, typhoid and hepatitis outbreaks.
The floods wiped out villages, farmland and infrastructure, and UN aid coordination body OCHA said more than 650,000 homeless families were still without basic shelter.
At camps for the displaced from across the country, survivors are battling with crippling heat, miserable sanitation and swarms of mosquitoes.
Many fled their homes with just the clothes on their backs and have been forced to drink contaminated water, causing diarrhoea and heightening fears over outbreaks of cholera and other water-borne diseases.
At a camp in Sukkor, Sindh province, women and children queued patiently Thursday for a cooked meal -- dished out from vats in the back of a truck -- while others waited for basic medical care at a makeshift clinic.
Amid the huge economic losses faced by Pakistan, estimated by Qureshi as totalling more than 43 billion dollars, a report in the Financial Times Friday said the Pakistani government would ask the International Monetary Fund to restructure a 10.5 billion dollar loan agreed in 2008.
The Asian Development Bank has said it will give two billion dollars to repair roads, bridges, power lines, homes, schools, medical facilities and farm structures, and the World Bank has promised to lend 900 million dollars.