UN chief Ban Ki-moon said a summit on climate change here on Monday had delivered "a clear call from world leaders for a breakthrough" at key talks looming in December.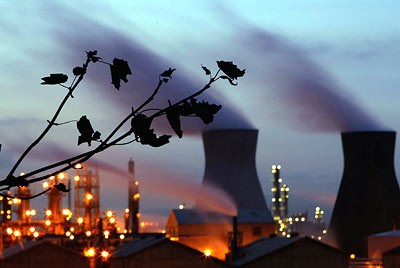 While nations' leaders are arguing on the Kyoto Treaty, the earth pollution is worse day by day.
"This event has sent a powerful political signal to the world, and to the Bali conference, that there is the will and the determination at the highest level, to break with the past and act decisively," Ban added.
He called it "a truly landmark event."
The December 3-14 conference in Bali, Indonesia, is tasked with setting down a roadmap for negotiations towards a new planetary deal on global warming after the first phase of the UN's Kyoto Protocol expires at the end of 2012.
Monday's summit was attended by around 150 countries, more than 80 of them at the level of head of state or government, making it the seniormost gathering in UN history on global warming.
It was not a pledging or negotiating session, but aimed at pushing climate change up the political agenda and clearing some of the diplomatic haze surrounding Bali.
European countries on Monday called for the world to set a target of halving emissions by 2050 compared with a 1990 benchmark and to peg global warming to two degrees Celsius (3.6 degrees Fahrenheit) to limit damage to Earth's fragile climate system.
British Environment Minister Hilary Benn also called on the United States to end its opposition to making binding pledges on cutting its emissions.
These commitments, which only apply to industrialized countries that are Kyoto parties, were a key argument for President George W. Bush's decision to abandon the landmark UN treaty in 2001.
"French President Nicolas Sarkozy said: "Collective action is imperative. The fate of each is linked with that of all. Solidarity is imperative. The poor would be the first victims of our selfishness."
Bush paid no attention to journalists who called to him as he left from a dinner, hosted by Ban at UN headquarters, gathering heads of government and ministers from major countries in the climate talks.
"As a major economy and also a major greenhouse-gas emitter, the United States takes this challenge very seriously," said US Secretary of State Condoleezza Rice in her speech, spelling out in particular US initiatives to promote cleaner technology.
Developing countries, meanwhile, said the onus was on rich ones to cut their emissions beyond 2012 and not look to poorer countries to sign up to binding pollution cuts, as this could prejudice their rise out of poverty.
The United States on Thursday hosts a two-day meeting of major carbon polluters, launching a 15-month process to define national goals and identify industrial sectors and promising technology that could be harnessed in the fight against climate change.
Defenders of the Kyoto Protocol suspect this initiative could be a US attempt to undermine the slower but inclusive UNFCCC process and promote a voluntary, less ambitious deal for emissions curbs among a smaller club.