Prince William demonstrated his linguistic skills Tuesday, addressing adoring fans in Canada's Northwest Territories in French, English and a few words in two tribal tongues.
William spoke briefly during the welcoming ceremony at the Somba K'e Civic Plaza in Yellowknife, the capital of the sparsely populated Northwest Territories, the latest stop on his nine-day Canadian tour with his wife, Kate.
"This place is what Canada is all about — vast, open beauty, tough, resilient, friendly peoples, true nature, true humanity," the prince said with Kate seated beside him. "We've already sensed the extraordinary potential of this region and the irrepressible spirit of adventure that marks the people of the territories and defines the land. We are so excited to be here."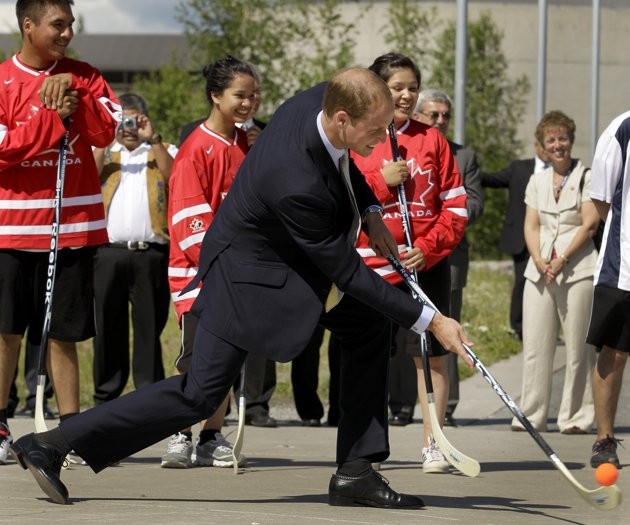 Prince William, the Duke of Cambridge, takes a shot as he visits kids playing street hockey during a welcome ceremony in Yellowknife, Canada as the Royal couple continue their Royal Tour of Canada Tuesday, July 5, 2011
He concluded by saying thank you in two aboriginal tongues, Dene and Inuvialuktun, provoking loud cheering from the crowd. Dene is spoken throughout the territory, while Inuvialuktun is spoken by an Inuit tribe along the Arctic coast.
The Duke of Cambridge, as he is formally known, has charmed citizens of this bilingual nation with his attempts at speaking in French.
On Tuesday William made his first attempt at the country's favorite sport, hockey. Wearing his traditional dark suit, he took three unobstructed shots during a street game with local youths, but was unable to land the puck in the net.
The goalie said the prince had a good shot for a novice.
"He looked like he knew what he was doing," Calvin Lomen, 20. "I heard him say he doesn't know how to play, but it seemed like he had a natural talent if he practiced more."
Still, the prince asked the goalie to let a shot in and he tried to oblige.
"He said, 'Please let the ball go into the net,'" Lomen said. "But it hit my stick instead and I wound up saving it."
Kate, who played field hockey at school, laughingly shrugged off calls from the crowd to take part herself, but she did drop the ceremonial puck to start off the game.
The royals were presented with Olympic Team Canada hockey jerseys, each emblazoned with "Cambridge" on the back. Kate got number 1, William number 2.
The royal couple started their day in a land where darkness never truly falls at this time of year, watching indigenous dancers in fur-trimmed parkas perform to the beat of tribal drums.
Wading into the crowd of thousands stationed behind barricades, Kate — wearing a light-beige, knee-length dress by Danish designer Malene Birger — and her husband, shook the hands of those patiently hoping to get a close-up of royalty.
One woman held a sign reading: "I can still marry Harry," a reference to William's still-single brother. Her phone number was written below.
On the sixth day of their nine-day trip to Canada, part of the first official overseas trip for the couple who wed on April 29, the couple caught demonstrations of aboriginal games and regional Arctic sports.
The newlyweds also took in a session of Youth Parliament at the territorial legislature before boarding a float plane for a flight to Blachford Lake, north of Great Slave Lake, where they went on a canoe ride. They also met members of the 1st Canadian Ranger Patrol Group, reservists who patrol Canada's desolate northwest, and sat around a lakeside campfire with them.
Their tour of the Arctic region wrapped up with a meeting with aboriginal elders. The couple also visited a "bush" university where students learn about northern aboriginal culture and governance.
On Wednesday morning, William and Kate will leave for the northern Alberta town of Slave Lake, heavily damaged by a wildfire in May, to meet with residents who were affected by the fires.
Following that visit, the couple will enjoy a private day to relax before leaving for Calgary on Thursday. They will conclude their nine-day visit at Alberta's Calgary Stampede on Friday before leaving for California.