Western governments ramped up pressure Wednesday for tougher sanctions against Iran even as Russia ruled out punitive measures after a new UN report hardened suspicions the Islamic republic is seeking atomic weapons.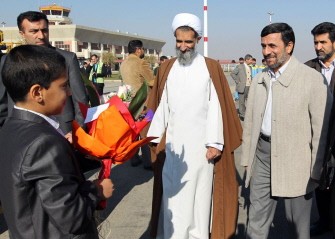 A picture released by the official website of the Iranian president's office shows an Iranian boy offering President Mahmoud Ahmadinejad (R) flowers upon his arrival at the aiport of Shahrekord at the start of his tour of Iran's Shaharmahal & Bakhtiari southwestern province on November 9, 2011
Washington said it was looking at ways to put "additional pressure" on Tehran after the United Nations released a report that found "credible" evidence existed of Iran working towards making nuclear warheads to fit inside its Shahab-3 medium-range missiles.
"These are very serious allegations, serious charges, and it's incumbent on Iran to at last engage with the IAEA in a credible and transparent manner to address these concerns," State Department spokesman Mark Toner said.
The administration of President Barack Obama is "going to consult (with allies and partners) and look at ways to impose additional pressure on Iran," Toner told reporters, adding Washington was considering "a range of options" against the Islamic republic.
"I don't want to rule anything out or anything in," he said, adding that unilateral sanctions were a possibility.
The International Atomic Energy Agency, the UN nuclear watchdog, published a report that found "credible" intelligence showing Iran's interest in nuclear weapons -- the first time it has so openly supported claims initially raised by Israel and the United States.
Since 2006, four UN Security Council resolutions on the Iranian nuclear programme have involved sanctions, the latest coming in June 2010 in a resolution expanding an arms embargo and barring the country from sensitive activities like uranium mining.
The following month, Obama signed into law the toughest ever US sanctions on Iran, which were aimed at choking off Iran's access to imports of refined petroleum products like petrol and aviation fuel, and curbing its access to the international banking system.
But the release of the damning UN report saw Britain and France join the US call for even stronger punishments, although Russia ruled out backing new sanctions against Iran.
Britain and France voiced their "utmost concern regarding the military dimension to Iran's nuclear programme in the light of ... (the) IAEA report and made clear their determination to seek new powerful sanctions if Iran refuses to cooperate," the two governments said in a joint statement.
"Our goal remains to ensure that Iran fully adheres to its international obligations," it added.
Russia vented immediate fury with the report's publication and dismissed its findings as a "compilation of well-known facts that are intentionally presented in a politicised manner."
"It juggles information in order to form an impression that the Iranian nuclear programme has a military component," the Russian foreign ministry said.
One of Moscow's most senior diplomats said further sanctions could only be viewed as an effort by Western powers to topple Iran's current regime.
"Any additional sanctions against Iran will be interpreted by the international community as a means of changing the regime in Tehran," Deputy Foreign Minister Gennady Gatilov told Interfax.
"This approach is unacceptable to us, and Russia does not intend to review this proposal," he said without specifying whether Moscow would actually veto further sanctions or simply abstain from a possible vote.
Russia gave grudging backing to the four packages of UN sanctions while resisting more crippling measures that could directly impact its military and energy ties with Iran.
It also condemned Israel for warning over the weekend that it was getting closer to launching a military strike on its sworn enemy because of its enrichment and research activities.
Russian President Dmitry Medvedev called it "extremely dangerous rhetoric."
Iran said it stands "ready for useful and positive talks" on its nuclear programme as long as they are held on the basis of equality and respect.
President Mahmoud Ahmadinejad voiced defiance, saying Iran "will not budge an iota" on its nuclear programme, which he insisted was for peaceful ends.
"We will not budge an iota from the path we are committed to," he said, adding: "We don't need the atomic bomb."
His deputy armed forces chief, Brigadier General Masoud Jazayeri, warned that any sign of Israel carrying out threats to attack Iran's nuclear sites "will see its destruction."
Israeli officials had no immediate reaction to the IAEA report. But Israeli President Shimon Peres said at the weekend the likelihood of an attack on Iran was becoming "more and more likely."