OSLO, July 28, 2011 (AFP) - Norwegian investigators faced growing questions Thursday about Anders Behring Breivik's killing spree, including why was he carrying a walkie-talkie during his rampage and about his claims of accomplices.
As European counter-terrorism experts gathered in Brussels to see what wider lessons need to be learned, no evidence has emerged from an international intelligence probe to show that the killer was working with anyone else.
That possibility "has become weaker over time," police spokesman Henning Holtaas told AFP on Thursday.
"We have always said that we are not ruling out that others were involved and we are investigating this," he said. "It's natural that we are checking all his communications."
However, Holtaas recalled that "earlier, witness accounts indicated that there were several shooters, but nothing in the evidence we found on the island backs that up."
Holtaas did not confirm that Behring Breivik was carrying the radio on Utoeya island, where 68 youths died in the shooting rampage, but two witnesses have said he was.
"He was dressed like a policeman. He had all the equipment -- the walkie-talkie, the arms, everything," 15-year-old survivor Jo Granli Kallset told AFP.
A functioning walkie-talkie would not reach much further than the mainland as little as half a mile away.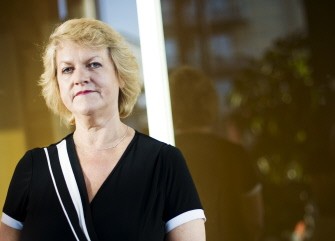 AFP - Norwegian domestic intelligence chief Janne Kristiansen poses after an interview at the Police Security Service headquarters in Oslo on July 27, 2011. Kristiansen told the BBC today no evidence has so far been found linking Breivik with far-right extremists in Norway or elsewhere.
Locals -- including one man, Kasper Ilaug, who told AFP he helped ferry youths to safety on residents' boats in the immediate aftermath of the shootings -- have cast doubt on whether the device would be anything more than a prop as part of his disguise.
Derek Crawford, a Scottish golf professional on the neighbouring island where police set up an operating base in the emergency phase of the operation, added that "the kids could also be a bit mixed up. You say to me 'here's a police officer,' and I can already see his walkie-talkie in my mind'."
Of perhaps wider significance to those meeting in Brussels, Behring Breivik boasted before the attack in a 1,500-page manifesto that he was one of up to 80 "solo martyr cells" recruited across Western Europe to topple governments tolerant of Islam.
The killer's lawyer Geir Lippestad also said his client had told him he had built an organisation with two cells in Norway and several others abroad. "Where, I don't know," Lippestad said.
Norway's intelligence service has been liaising with counterparts across Europe and in the United States trying to verify the gunman's claims of active cells forming a terror "organisation," made during a court hearing and in the tract.
"If we do have a lonely wolf, that is a totally different matter" when it comes to going back over the suspect's tracks, Janne Kristiansen, head of Norway's intelligence services, said in an interview with AFP.
"That's our main focus, along with our focus on 'Are there more bombs?'" still to be located.
"So far, we have had no information and indications that he has had any accomplices, or (that) there are other cells in Europe," she said.
"He has done this very carefully and meticulously and so far he has succeeded in avoiding any radar, or radar of the secret services."
In Brussels, European Union anti-terror experts met from 10:30 am (0830 GMT) with their Norwegian counterparts to examine measures in hand to prevent a recurrence of the massacre.
The talks, which also include representatives of Europol, "will essentially be an exchange of information with Norway, with no decisions expected," a diplomat said.
Prime Minister Jens Stoltenberg has set up a commission of inquiry to investigate all aspects of the attacks amid criticism that it took officers too long to get to the island.