Consumers in Vietnam are the most optimistic in Asia followed by Hong Kongers who have been buoyed by a booming stock market and falling unemployment, a MasterCard survey shows
.
Vietnamese consumers continue to benefit from the country's transformation from a communist state to a market economy in a fast-growing region, MasterCard said.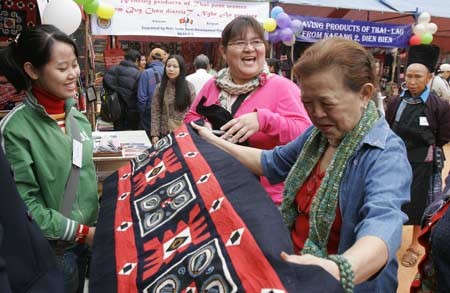 Mountain sellers and overseas customers in Ha Noi
The survey showed consumers were fairly optimistic across the region and were more upbeat than six months ago, although confidence was weak in South Korea and Taiwan, amid fears about employment, and sentiment was subdued in Malaysia and Australia.
The latest MasterIndex of Consumer Confidence registered an average score of 64.3, up from 57.4 in the same survey six months ago.
The twice-yearly survey is based on responses from about 400 middle and high-income consumers in each of 12 markets and on responses from 600 consumers in China, all taken in October. It aims to measure confidence in the six months ahead. A score of 0 is most pessimistic, 100 is most optimistic and 50 is neutral.
Falling oil prices and stock market gains supported consumer confidence in Asia. However, Yuwa Hedrick-Wong, Asia-Pacific economic adviser to MasterCard, said he was concerned that confidence in the region was based on optimism about the global outlook, noting that could change.
"Consumer sentiment is fairly optimistic in the first half of 2007, but things might change quickly in the second half of the year if growth slows sharply in the United States, leading to a decline in export demand for Asia," Hedrick-Wong said.
In Thailand, consumer confidence surged after the ousting of former Prime Minister Thaksin Shinawatra, the survey showed.
MasterIndex of Consumer Confidence for Asia/Pacific:
                   H1 2007         H2 2006Vietnam                 93.7            89.6Hong Kong               88.8            88.5Singapore               82.5            73.9China                   81.2            78.2Japan                   68.3            68.9Thailand                65.1            28.6Indonesia               62.5            42.4New Zealand             61.0            45.2The Philippines         57.2            51.9Australia               45.3            46.5Malaysia                37.5            51.4Taiwan                  30.8            29.1South Korea             29.3            28.1--------------------------------------------The region              64.3            57.4