Vietnam and Ghana are the star performers in efforts to reach the Millennium Development Goals (MDGs) on cutting poverty and boosting health, a new report from a British think-tank said Tuesday.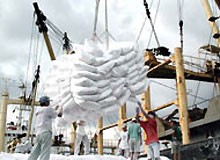 Loading rice for export. Vietnam is now the second largest rice exporter in the world.
Many other countries had also made great strides towards the targets, said the Overseas Development Institute (ODI) in a report released ahead of a UN summit in New York next week which aims to boost efforts to reach the goals.
The eight goals were set at the Millennium summit in 2000, but with just five years until the 2015 deadline many experts and aid agencies remain sceptical any of the aims will be met.
The ODI was upbeat in its assessment, however, pointing to notable progress in areas including poverty reduction and access to education.
But its report was not without criticism and highlighted some parts of the world where progress was slow.
On the positive side, Vietnam had made "unprecedented progress" in improving the lives of the poor, said the report.
The Asian country had managed to halve the proportion of underweight children and reduce the proportion of people living on less than one dollar a day from nearly two-thirds to one-fifth in 14 years, said the institute.
Ghana had reduced hunger by nearly three-quarters -- from 34 percent to nine percent between 1990 and 2004 -- an area in which it had outperformed all other countries around the world.
It is on course to achieve the Millennium goal of halving rates of poverty and hunger by 2015, said the think-tank.
Ten African countries -- including Ethiopia, Egypt and Angola -- had already halved their poverty levels, according to the ODI.
But the institute warned: "In other areas progress has been slower, or even reversed, and challenges remain in a number of countries."
It highlighted great variations in HIV infection rates across Africa and uneven progress in tackling hunger and poverty across Latin America.
"This report recognises... the real progress that even many of the poorest countries are making," said Mark Suzman, director of policy, advocacy and special initiatives for the Global Development Programme at the Bill & Melinda Gates Foundation.
The foundation and the UN Millennium Campaign funded the ODI's research, which examined progress on seven of the eight Millennium goals.