Viet Nam that holds the presidency of the 15-member UN Security Council in July voted against a draft resolution proposing sanctions on Zimbabwe.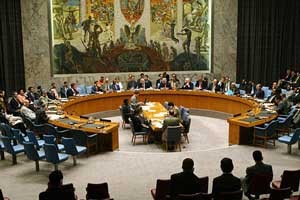 A UN Security Council meeting
China and Russia, the council's permanent members, and two other non-permanent members, South Africa and Libya, also vetoed the draft resolution, while Indonesia abstained in the July 11 UNSC session.
With the veto of both China and Russia, the council failed to adopt the draft resolution in the meeting which was chaired by Ambassador Le Luong Minh, Permanent Representative of Viet Nam to the UNSC.
Speaking prior to the vote, Ambassador Minh stated that Viet Nam shares the deep concerns about the current instability, violence and political impasse in Zimbabwe which are having an adverse impact on the life of the people of Zimbabwe.
Viet Nam supports the mediation efforts by the African Union (AU), the Southern African Development Community (SADC), and South African President Thabo Mbeki in implementation of the resolution adopted recently by the AU Summit in Sharm-el-Sheik with a view to enabling the parties concerned in Zimbabwe to reach a mutually acceptable solution in a spirit of placing the interests of the people of Zimbabwe above all, thereby contributing to the restoration and consolidation of peace, security and stability not only in Zimbabwe but also in the region.
"We are pleased to see that with the good offices efforts led by South African President Thabo Mbeki, the parties concerned in Zimbabwe are engaging in dialogue and negotiations towards this end," he added.
The diplomat went on to say Viet Nam is of the view that the situation prevailing there does not constitute a threat to regional or international peace and security.
"This view is shared not only by regional countries, especially the next-door neighbors of Zimbabwe but also by most of the member states of the United Nations," Minh said, adding that "Therefore, Viet Nam holds that the situation in Zimbabwe at present is not within the mandated purview of the Security Council."
The ambassador noted subjecting Zimbabwe to Charter VII sanctions for its present situation is of serious concern for the fact that the proposed sanctions measures would not only fail to facilitate the efforts in finding a solution to the situation in Zimbabwe, especially those made by the AU and SADC, but also set a dangerous precedent for intervention in the internal affairs of sovereign states and run counter to the fundamental principles of international laws and the Charter of the United Nations.
"For all these reasons, Viet Nam cannot support the draft resolution," the representative emphasized.
As a member of the UNSC, Viet Nam always tries its best to improve the council's operation efficiency, Minh told international reporters after the meeting.
The ambassador stressed that the UNSC as well as the UN only operate effectively when they abide the fundamental principles of international laws, the UN Charter and their functions.