Venezuela's military took center stage in the country's bicentennial celebrations Tuesday, and it likely would be a key player in the country's political future if

Hugo Chavez

were to be forced out of the presidency by cancer.
Thousands of troops marched beneath thundering fighter jets and helicopters while an announcer's booming voice declared that the nation is "free, socialist, independent."
Top brass appeared alongside Chavez, a former paratrooper, as he saluted and addressed the parade by television from his presidential palace across town. The image brought to mind other critical moments of Chavez's career, such as a 2002 coup against him, in which military loyalists came to his rescue.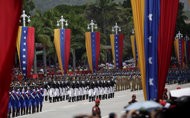 Venezuelan troops march in a parade marking 200 years of Venezuela's independence
Despite the appearance of a fully unified Bolivarian National Armed Force, some analysts and former officers say there are long-standing internal divisions between those who solidly stand behind Chavez's drive for socialism and those who do not. If Chavez's health worsens, some believe latent tensions could emerge within the ranks and the military could also end up playing a key role in any transition to new leadership.
"It's going to clearly be an important actor in the days to come," said Diego Moya-Ocampos, a political analyst with IHS Global Insight in London. He said the military is "the only institution that would have the power to put pressure on the political actors to generate outcomes."
Much depends on Chavez's health, however.
In his address to the parade, the president said he was glad to be back after undergoing surgery to remove a cancerous tumor in Cuba, but that his treatment prevented him from participating in the festivities.
"Here I am, in recuperation but still recovering. We've begun another long march," Chavez said. He spoke for about 12 minutes under a portrait of 19th-century independence hero Simon Bolivar, for whom his socialist-inspired Bolivarian Revolution movement is named.
One officer stood at attention and addressed the president from atop a tank: "We will get out of the abyss together with you."
Troops in combat fatigues marched in formation, while others in colonial-era uniforms goose-stepped down the parade route outside the country's military headquarters. The parade marked the 200th anniversary of Venezuela's declaration of independence from Spain.
Some analysts say there are multiple factions within the armed forces, including a large contingent of midlevel officers who are professional soldiers, or "institutionalists," with no particular allegiance to Chavez's socialist movement. That has become a source of tension in recent years as Chavez has instituted the new salute repeated by soldiers: "Socialist fatherland or death!"
Analysts believe those midlevel officers would be inclined to insist on a constitutional transition of power in the event