Venezuelan President Hugo

Chavez

was in Cuba Sunday where he was to begin chemotherapy treatment, after transferring limited powers in hopes of quelling criticism from political opponents back home.
"It is not time for dying; it's time to live," Chavez said in Caracas before departing Saturday.
"I am going for a few days but I am not saying goodbye ... I will return better," he said, without revealing how long he would be away for.
Despite not ceding much power, Chavez has delegated for the first time a modicum of administrative control to his vice president, Elias Jaua, with the ability to sign his orders.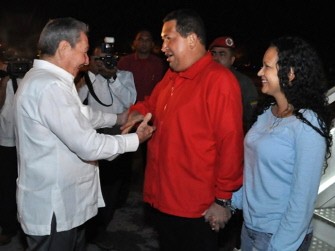 Handout picture released by www.cubadebate.cu of Cuban President Raul Castro greeting his Venezuelan counterpart Hugo Chavez (C) with his daughter Rosa Virginia (R) upon arrival at the Jose Marti international airport in Havana early morning on July 17, 2011.
The president said he would hand over his full presidential powers to Jaua only "if I felt my abilities were impaired."
Chavez however remains empowered by the legislature to act as head of state despite being in Cuba -- according to the Venezuelan constitution, the country's executive power must be based in Caracas.
Chavez also issued a decree giving Finance Minister Jorge Giordani additional powers over economic issues.
He was greeted warmly by Cuban President Raul Castro at the Havana airport upon arriving late Saturday, and a photo released by official state media showed Chavez holding the hand of a young woman presumed to be his daughter Rosa, who traveled to here with the ailing leader.
The 56-year-old firebrand leader had a cancerous tumor removed during a weeks-long stay in Cuba last month, and was warmly greeted upon his return late Saturday by President Raul Castro and Foreign Minister Bruno Rodriguez.
"I have to say I am optimistic. I have never loved life the way I am loving it now," Chavez said in a televised speech shortly before leaving Caracas.
He said that since the removal of a tumor "right up to this very day, no other cancerous cell has been detected in my body."
It was a rare disclosure of details relating to an illness that his critics had complained Chavez has kept too close to the vest.
On Friday, the Venezuelan leader asked the National Assembly for permission to travel to Cuba to continue treatment following the June 20 operation to remove the cancerous tumor from his pelvic area.
To lawmakers he described the chemotherapy as the "second stage of this slow and complex process of recovery."
Though the National Assembly unanimously approved his travel request, needed for the president to leave the country for more than five days, opposition leaders insisted it was unconstitutional for Chavez to continue to exercise executive authority from Cuba.
"When the president leaves the country, the vice president must assume the chief executive role. It is their duty," said opposition lawmaker Hiram Gaviria.
"The health of the country must be put above the president's health. We must be serious. We believe he should not hold office from Havana," added another opposition lawmaker, Carlos Berrizbeitia.
Loyal regime lawmakers said Chavez should continue his chief executive role because he has the mental and physical capabilities to do so.
"We don't have the slightest doubt that the president -- whether he is in Cuba or in Russia -- will remain the leader of our Bolivarian republic," said deputy Diosdado Cabello, a Chavez supporter.
Chavez, in power since 1999, is his party's candidate for the 2012 presidential election, seeking a third six-year term in office.
On Saturday his supporters accused political foes who were protesting Chavez' departure of encouraging a coup.
Critics of the president have demanded more details about his cancer, as well as answers to why he cannot be treated in Venezuela, where authorities say they have created a quality health care system.
The Venezuelan government has not explained the extent of Chavez's cancer or provided any other details about the disease.
Cuba, the America's only one-party communist regime, is Chavez's closest regional ally.