CARACAS, July 1, 2011 (AFP) - Venezuelan President Hugo Chavez has admitted to having had a cancerous tumor removed, following weeks of speculation over the leftist firebrand's condition and unprecedented absence from public life.
"Studies confirmed the existence of a tumor with cancerous cells," the 56-year-old leader said Thursday in his first televised address since being rushed to hospital in Cuba on June 10 during a state visit.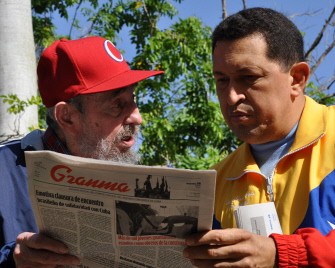 AFP - (FILES) Handout picture released by the Cuban website www.cubadebate.cu on June 29, 2011, shows Venezuelan President Hugo Chavez Frias (R) and Cuban former President Fidel Castro reading Communist Party newspaper Granma, in Havana on June 28, 2011.
Venezuelan officials had said he was being treated for a painful pelvic abscess, but Chavez announced that the operation had uncovered the tumor and a second operation had been deemed necessary to remove it.
Chavez did not say where the tumor was found or what type of cancer was detected.
In the emotional late night address, broadcast live in Venezuela, Chavez expressed hope for a full recovery and acknowledged a "fundamental error" in neglecting his health for years.
In contrast to his famously long, improvised speeches that often run hours on end and frequently feature diatribes against US "imperialism," Chavez's pre-recorded address was read from a script in a tight 15-minute video.
Flanked by an image of Venezuelan independence hero Simon Bolivar on one side and the national flag on the other, Chavez was visibly thinner but remained animated during parts of his address.
Dozens of government supporters took to the streets of Caracas to show their solidarity with the ailing president, who insisted he was still in control.
"I have kept informed and am in control of the Venezuelan government," he said, adding that he has been in "constant communication" with Vice President Elias Jaua and members of his administration.
The president of South America's biggest oil producer and champion of the Latin American left did not, however, indicate when he would return to Venezuela, where he has been elected president three times since 1998.
Immediately after the broadcast, Jaua made his own somber address to the nation in which he insisted the government was still functioning and called for the "unity of all revolutionary forces in the country."
"This is not time for sadness but time for reflection, courage and to work calmly as the commander recovers," Jaua said.
The ruling United Socialist Party of Venezuela (PSUV) said it would keep working to achieve Chavez's ideals.