CARACAS, Sept 26, 2010 (AFP) - Venezuelans came out Sunday to vote in a key test for leftist President Hugo Chavez, as the opposition fought for a strong return to the National Assembly after boycotting the last elections.
Polling stations began closing at 6 pm (2230 GMT) in the vote for 165 lawmakers which was set to shake up a political scene in the oil-rich nation which Chavez has led for almost 12 years.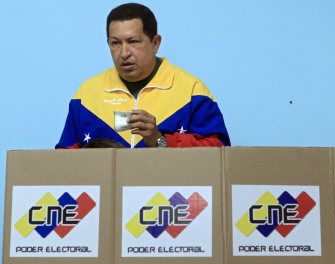 Handout picture given by the Venezuelan Presidency depicting President Hugo Chavez casting his vote in Venezuelan Parliamentary elections in Caracas on September 26, 2010. AFP
Tibisay Lucena, president of the electoral council, said the vote took place "in an atmosphere of calm and civic-mindedness" without major incidents, while some polling stations stayed open where lines remained.
Chavez wants his party to keep a strong grip on the legislature to aid his "socialist revolution," a government marked by nationalizations, social projects and a centralizing of power.
A determined opposition has put aside differences to unite in the umbrella Table for Democratic Unity (MUD) to fight for its first seats since its 2005 boycott.
Several small leftist parties, which defected from Chavez's party to offer the only congressional opposition, are now standing alone.
Some 250,000 security forces are policing the polls, in which more than 17 million people are eligible to take part.