Venezuela's annual inflation rate has surpassed 30 percent after consumer prices surged in April.
The Central Bank and National Statistics Institute on Friday reported a 5.2 percent increase in consumer prices during April, driving up the annual rate to 30.4 percent.
President Hugo Chavez's government has been struggling against the highest inflation rate in Latin America and a weakening economy in general.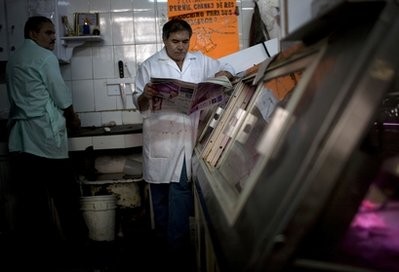 In this May 5, 2010 photo, a butcher reads a newspaper behind a display counter in Caracas. At least 40 butchers were detained last week on charges of speculation for allegedly driving up their prices. If convicted, they could face two to six years in prison
Prices increased 11.3 percent from January to April, up from 6.7 percent inflation in the same 2009 period.
Venezuela's economy shrank by 3.3 percent last year amid a downturn in its all-important oil industry. It's the nation's first recession since 2003.
The country imports most of its food, and Chavez on Friday announced the government will create an import-export corporation aiming to break with the private sector's "hegemony." It wasn't immediately clear how the new state entity would operate.
Chavez said wealthy Venezuelans involved in the import business "buy abroad, come here and ask for more than it really costs."