Unfazed by international anger at its second nuclear bomb test, a defiant North Korea was said Saturday to be preparing to launch a long-range missile.
The United States stressed it would not accept the North as a nuclear-armed state and warned that more atomic tests could spark an arms race in East Asia.
"A train carrying a long-range missile has been spotted at the weapons research centre near Pyongyang," South Korea's Yonhap news agency quoted an intelligence source as saying.
The source said it may be a modified version of a Taepodong-2, which the North tested in 2006 and in April and which is theoretically capable of reaching Alaska.
"It usually takes about two months to set up a launch pad, but the process could be done in as little as two weeks, which means the North could launch a long-range missile as early as mid-June," the source said.
Yonhap quoted a presidential official as saying the North may schedule a launch to coincide with a June 16 summit between South Korean President Lee Mying-Bak and US President Barack Obama in Washington.
Two defence officials in Washington told AFP US satellite photos had shown vehicle activity at two launch sites in the North, one in the west and one in the east.
Diplomats at the United Nations Security Council are discussing a new resolution which could impose new sanctions to punish the North for Monday's nuclear test -- its second since 2006.
Pyongyang says it will take "additional self-defence measures" in response to any sanctions.
"If the UN Security Council (UNSC) provokes us, our additional self-defence measures will be inevitable," its foreign ministry said Friday.
"The world will soon witness how our army and people stand up against oppression and despotism by the UNSC and uphold their dignity and independence."
The North has further fuelled tensions in the past week by launching six short-range missiles, renouncing the armistice that ended the Korean War in 1953 and threatening possible attacks on South Korea.
Analysts believe ailing leader Kim Jong-Il is trying to bolster his authority to prepare for an eventual succession.
They say the North is not interested in further disarmament negotiations unless it is accepted as a nuclear-armed state.
US Defence Secretary Robert Gates insists that will not happen.
"The policy of the United States has not changed. Our goal is complete and verifiable denuclearisation of the Korean peninsula, and we will not accept North Korea as a nuclear state," he told a Singapore security conference.
"North Korea's nuclear programme and actions constitute a threat to regional peace and security," Gates said, adding they pose "the potential for some kind of an arms race here in this region."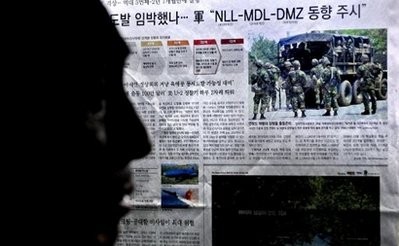 A Seoul newspaper reporting on North Korea's missile test
Gates said Washington "will not stand idly by as North Korea builds the capability to wreak destruction on any target in Asia -- or on us," but stressed there was no immediate military threat to the United States.
South Korean and US forces on the peninsula are on heightened alert for any border clashes.
South Korean Defence Minister Lee Sang-Hee, who met Gates on the sidelines of the conference, said their patience with North Korea was running out.
"We agreed that we are tired of telling the same stories to North Korea, and that there is nothing for North Korea to gain from its wrong behaviour," Yonhap quoted him as telling South Korean reporters.
"A strong response has been agreed on by the US and South Korea against any active military provocation," Lee said.
The North walked out of six-nation nuclear disarmament talks after the Security Council condemned its April 5 rocket launch and tightened existing sanctions.
The United States is sending two diplomats to consult the other nations negotiating with the North -- China, South Korea, Japan and Russia.
Stephen Bosworth, the special envoy on North Korea, and Deputy Secretary of State James Steinberg will head Sunday to Tokyo and later visit China, South Korea and Russia, the State Department said.