BAGHDAD (AFP) – The number of US troops in Iraq fell below 50,000 Tuesday ahead of a declaration of an end to combat operations next week, a key milestone seven years on from the invasion that ousted Saddam Hussein.
The news comes as a spike in unrest in the past two months has sparked concern that Iraqi forces are not yet ready to handle the country's security on their own, and with no new government formed in Baghdad since polls in March.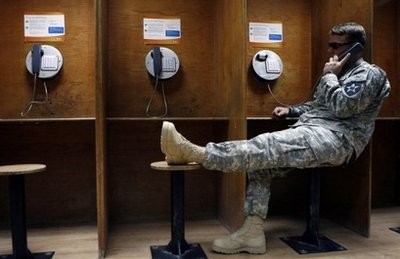 A US soldier speaks to his family from Kuwait after his unit withdrew from Iraq. AFP file
"Today, in line with President (Barack) Obama's direction and as part of the responsible drawdown of forces, US military force levels in Iraq are below 50,000," the US military said in a statement.
"US military forces will transition to Operation New Dawn effective September 1, 2010."
Shortly after coming into office in 2009, Obama pledged that the US would end combat operations in Iraq by the end of August, bringing "Operation Iraqi Freedom" to an end, at which point troop figures would drop below 50,000.
The current US troop level here is now less than a third of the peak figure of around 170,000 during "the surge" of 2007, when Iraq was in the midst of a brutal sectarian war in which thousands of Iraqis were killed.
The US military has withdrawn tens of thousands of soldiers from the country in recent months, and the last American unit designated as a "combat brigade" left Iraq and crossed into Kuwait on Thursday.
All remaining US brigades in Iraq are now labelled "advise and assist" brigades, as part of American plans to help train and build up Iraqi forces before a complete withdrawal which is due at the end of next year.
A surge of violence in the past two months, however, has sparked concern that local forces are not yet ready to take over sole responsibility for the country's security.
According to Iraqi figures, disputed by the US, July was the deadliest month here since May 2008, and last week, a suicide bomber killed 59 people at an army recruitment centre in Baghdad.
US commanders insist their Iraqi counterparts are up to the task, but Iraq's top military officer said earlier this month that the country's army would not be ready until 2020, and called for US forces to stay until then.
The top US commander in Iraq, meanwhile, admitted on Sunday that a "complete failure" of Iraqi security forces could oblige the United States to resume combat operations, but said this was an unlikely scenario.
General Ray Odierno told CNN that the ability of the Iraqi police and army to keep a lid on the violence was improving, and added that security advances meant the country was on target to be able to handle its own security after 2011 when the last remaining US troops are due to be withdrawn.
"My assessment today is they will be (ready)," Odierno said, speaking from Baghdad, but added that the US may be forced to resume combat operations "if, for example, you had a complete failure of the (Iraqi) security forces.
"If you had some political divisions within the political forces that caused them to fracture, but we don't see that happening," he said.